Throughout his adult life, Ed Rosen dreamed about working full time in the Thoroughbred racing industry.
It finally happened nearly a year ago
He may have been 76 at the time, but Rosen is rather proverbial about it.
"Better late than never," he said.
Late is, of course, a relative terms for Rosen. It may have taken decades for him to become involved on a full-time basis, but he's surely no stranger to the game.
For more than 25 years, Rosen, formerly a practicing attorney, has "moonlighted" in racing, becoming one of the most successful and respected pedigree analysts in the industry.
What was a time-consuming "hobby" changed gears for Rosen when owner Mike Repole of Repole Stable decided to expand his presence at the sales two years ago. Repole started leaning on him to increase his workload for the operation and become a full-time worker.
So effective Dec. 31, 2021, Rosen retired after about 50 years of practicing law and since Jan. 1 he has worked solely for Repole, spending his days sifting through reams of data and catalog pages, searching for the unraced youngsters that will be Repole's stars of the future.
"Working full time like this is something I've always wanted to do," the lifelong New Jersey resident said.
He's always been very good at it, too.
Since 1995, Rosen's pedigree analysis has played a key role in the purchasing of Tale of the Cat, More Than Ready, and English Channel, who not only collectively won 12 graded stakes and English Channel was honored with an Eclipse Award as champion grass horse, but the three became extraordinarily successful stallions. Making those buys even more incredible, they were among a select number of purchases at the Keeneland September Yearling Sale by their owners during their yearling years. These owners were only buying about a half-dozen each year.
More recently, with Repole his work came into play with the purchases of the now 2-year-old colt Forte and 3-year-old filly Nest, both of whom are a cinch to be named a division champion for trainer Todd Pletcher, and Vino Rosso , a 2019 Longines Breeders' Cup Classic (G1) and Eclipse Award winner who now stands at Spendthrift Farm.
As anyone who knows Repole well will understand, the uber-energetic owner has plenty to say about the valuable role played by the man he calls "Uncle Ed."
"He's a friend, a mentor. He has 65 years of horse racing in his head. He's been working with Todd and J.J. Pletcher for more than 20 years. He's part of a great team, and he's a great team player. I love him. He does two things very well. He's great at analyzing a pedigree and digging deep into it, and he's a master at the New York Times crossword puzzle. That keeps him sharp," Repole said.
Team is indeed the key word in describing how Repole has attacked the yearling and 2-year-old sales with gusto since last year's auctions.
Back in 1995, when Rosen worked for trainer John Forbes, he picked out the six horses that were bought for the Phantom House syndicate that included Tale of the Cat and three other stakes winners, including Delaware Handicap (G3) winner Amarillo. Now, in the last year and a half, Rosen has been involved in the purchase of about 175 horses, either for Repole or partnerships involving the prosperous entrepreneur.
Repole bought all or a share of 70 yearlings alone at the most recent Keeneland September sale, which if combined would put him at the top of the sale's leading buyer standings.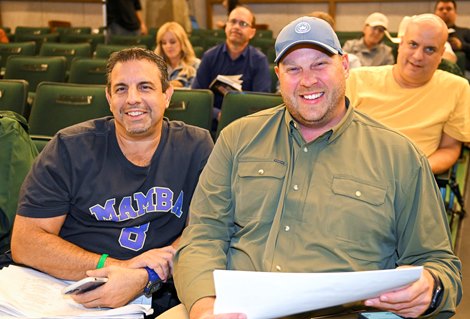 "It's quite a process," Rosen said. "There's a lot of preparation so that some quick decisions can be made."
The process begins at each sale with Pletcher and his team providing a list of horses that they like in terms of conformation and physical appearance. Then Rosen provides his input on the pedigrees of those horses and other thoughts from bloodstock agent Jacob West, racing manager Jim Martin, assistant racing manager Danielle Bricker, and veterinarians. The scores from each group are weighed by Repole, who bases his bidding on how many check marks a prospect receives.
"They all don't all have major pedigrees, especially when you are buying 50 or 70 horses at a sale," Rosen said. "There can be horses who excel in one category but not another. They may love the conformation but the pedigree is so-so or the pedigree is great and the conformation is so-so. You adjust your bidding and what you want to pay for them."
Once Repole's wish list is finished it is shared with another team organized by his good friend, Vinnie Viola of St. Elias Stable, and the two owners will strategize on the bidding if there are youngsters both outfits like.
Rosen places the most importance on female families, in particular young dams, and in the case of Forte, he was a true bargain.
"I liked what I saw in Forte's pedigree," Rosen said. "I always read a catalog page from the bottom up. I'm a great believer in the female family. Like the Phipps' families that keep re-producing themselves and have been cultivated over time and are capable of continuing to produce."
A son of Violence bred in Kentucky by South Gate Farm, he's the first foal out of the Blame mare Queen Caroline, a multiple stakes winner who earned $401,608. Some typical physical concerns diluted the field of prospective buyers, but when an owner like Repole is willing to buy dozens of horses, there's ample opportunities to gamble on a reasonably priced youngster. In this instance, Repole and Viola teamed to buy Forte for $110,000 from the Eaton Sales consignment at the 2021 Keeneland September sale.
Placed in Pletcher's care, Forte wrapped up the 2-year-old title with a convincing victory in the FanDuel Breeders' Cup Juvenile Presented by Thoroughbred Aftercare Alliance (G1), which added to previous wins in the Claiborne Breeders' Futurity (G1) and the Hopeful Stakes (G1).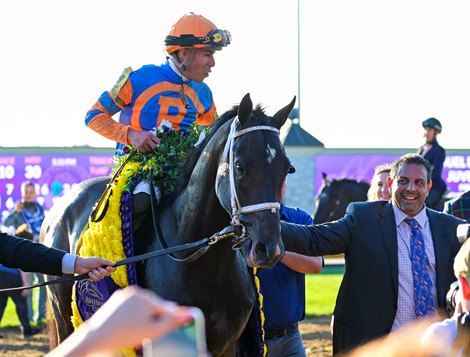 "Ed is our pedigree expert and a guiding force through the breeding program," Pletcher said. "I've known him for about 25 years, and he's a good, classy guy who is a key part of our team."
From the same crop, Repole bought Chocolate Gelato, a daughter of Practical Joke out of the Candy Ride mare Special Treat for $475,000 from the SGV Thoroughbreds consignment at the 2022 Gulfstream Sale, Fasig-Tipton's Florida select 2-year-olds in training sale. Bred by Vincent Colbert, she won the Frizette Stakes (G1) in her third start for Pletcher, and has earned $290,350.
With combined earnings of nearly $1.9 million, those two have already covered the cost of numerous horses Repole bought at the sale and the income figures to soar dramatically once a stallion deal is secured for Forte, who is considered a favorite for the Kentucky Derby Presented by Woodford Reserve (G1).
"Those two will pay for the entire crop of last year," Repole said.
The 3-year-old filly Nest, who Repole owns in a partnership with Eclipse Thoroughbred Partners and Michael House, is a graded stakes winner at 2 and 3 who not only won the Alabama Stakes (G1) and two other grade 1 stakes this year but finished second in the Belmont Stakes Presented by NYRA Bets (G1) to Mo Donegal , a colt Repole privately purchased a share in after his racing career began.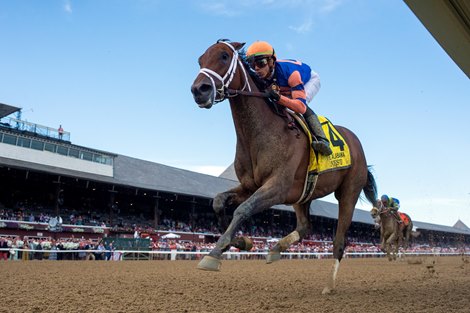 Bred by Ashview Farm and Colts Neck Stable, Nest is a daughter of Curlin out of the A.P. Indy mare Marion Ravenwood. Bought at the 2020 Keeneland September sale for $350,000 from her breeders, her dam caught Rosen's eye when Marion Ravenwood's 2017 foal, Idol , ran second in his debut Sept. 5, 2020, and completed six furlongs in 1:09 2/5.
"Idol ran great in a six-furlong race even though he was bred to go longer," Rosen said. "I liked Nest's pedigree and that race by Idol encouraged me to like her even more."
Idol later won the 2021 Santa Anita Handicap (G1).
All of Rosen's success has its roots back in 1957, when Rosen was 12 and his father, who was also an attorney, receive a share of a racehorse in lieu of payment for legal work.
The filly was Craftiness who won the 1959 Diana Stakes and was second in the Beldame Stakes, which at the time had the clout of the modern day Longines Breeders' Cup Distaff (G1).
"I got the bug back then and I never recovered," he said.
Over the years, Rosen owned horses but it was pedigrees rather than past performances that intrigued him.
"I'm not sure how that happened but pedigrees were the part of the game that fascinated me," Rosen said.
At the time, pedigree information was like a thimble compared to the ocean of data now available and Rosen said one of his first mentors was P.G. Johnson, who trained horses for Rosen and his dad.
"P.G. was one of the first trainers who was sensitive toward pedigrees," Rosen said. "I learned some pointers from him and then I would scour the Daily Racing Form. My memory was a great asset for that."
John Tammaro Jr., a leading Mid-Atlantic trainer, was another key mentor and through Tammaro, he met Forbes in the 1970s when Forbes was an assistant for "Big John." A long friendship with Forbes ensued, and while Rosen did some pedigree work for his friend Al London, it was Forbes who provided Rosen with his breakthrough opportunity.
He was invited to do pedigree work for the Phantom House group in 1995 and hit a grand slam with Tale of the Cat, who was bought for $375,000 and later sold to Coolmore's Ashford Stud for approximately $12 million.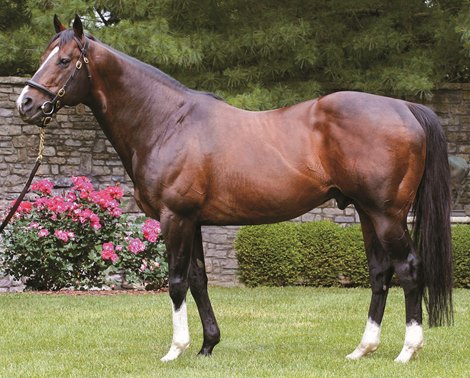 "He was by Storm Cat which made him an obvious choice and the second foal out of Yarn, whose first foal was a filly named Myth. I remembered that Myth ran on grass for the first time on grass in a stakes a few days before Tale of the Cat was sold and was fourth, only beaten a half-length for third. So she wasn't stakes-placed, but she ran well and that's the kind of thing that wasn't in a pedigree page and it made him more attractive," Rosen said. "At the time the cross of Storm Cat over Mr. Prospector wasn't well-known. It turned out to be terrific but it was sort of unknown back then."
Now pensioned, Tale of the Cat produced 1,154 winners as a stallion, with 81 stakes winners, and registered $122.4 million in North American earnings from his progeny.
Rosen next teamed with Jim Scatuorchio, a Phantom House partner who went out on his own and raced with Pletcher.
In 1998, Rosen bought More Than Ready for Scatuorchio for $187,000 at the Keeneland September Yearling Sale. A grade 1-winning 1,026,229 earner, the son of Southern Halo out of the Woodman mare Woodman's Girl became an even better stallion for WinStar Farm with 130 stakes winners and earnings of $141,795,892 for his progeny in North America.
"I loved the female family and the sire, Southern Halo, had been repatriated from South America and people were a little gun shy of him," Rosen said.
Next came English Channel, a son of Smart Strike out of the Theatrical (IRE) mare Belva who Scatuorchio bought for just $50,000 at the 2003 Keeneland September Yearling Sale. Winner of the 2007 John Deere Breeders' Cup Turf (G1T) at Monmouth Park in Rosen and Scatuorchio's home state of New Jersey, the 2007 champion turf male earned $5.3 million and produced earnings of $70.4 million as a stallion before passing away in 2021.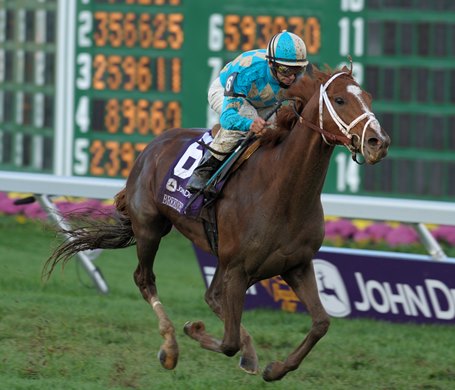 Rosen also worked for David Moore of Edgewood Farm and provide the pedigree approval for Pollard's Vision, the one-eyed runner who earned $1.4 million after he was bought for $70,000.
He teamed with Repole in 2010 while the charismatic owner was riding high with his two juveniles Uncle Mo , the champion 2-year-old male of 2010, and Stay Thirsty . It was Rosen's daughter, Rachel Jacobson, who was then working for the National Basketball Association, who told Repole about her dad and his success in horse racing.
Repole and his wife, Maria, met Rosen for lunch in the spring of 2010 and everything fell into place like a runaway debut winner.
"I had about 75 people who wanted to talk to me about horse racing back then, and while I didn't brush it off, I didn't rush out to see Eddie. One day in the spring, my wife and I took a trip to Monmouth to meet him," Repole said. "When I sat down to have lunch with him, it was the opposite of what I imagined. He was an incredibly nice gentleman. Great family. A Cornell grad. Incredibly articulate. Super smart and very compassionate."
Family is of utmost importance to Repole and he quickly became endeared to Rosen.
"My wife had lost her mom two weeks earlier and her dad two years before that. Maria really didn't want to be there, but Eddie in speaking to her, related to her because he lost his parents within a few years," Repole said. "And watching him talk to Maria like that, for me it's always about friends and family. That showed me why I want to work with him. If you want to be part of my family and friends I measure your heart more than your brains and to be part of that group of family and friends you have to be a good person with a big heart. I felt like I wasn't getting a pitch from a bloodstock or pedigree adviser, I was talking to my Uncle Ed.
"Ed came aboard right after Uncle Mo started running and I always kid Ed, it's a good thing he did because he would have told me, 'Why do you want him? He has a weak pedigree.'"
Rosen appreciated that Repole was willing to add a new member to a successful team.
"I give Mike a lot of credit," he said. "He had Uncle Mo and Stay Thirsty and someone like that could think they had it all figured out but he still thought I could be a helpful piece to the puzzle. He helped make a dream come true for me with this job."
Now Repole is close friends with Rosen, as well his wife, Barbara, and other two children, Jeremy and Andrea, and he jokes with him about the role he played in raising a fine family with a twist on Rosen's pedigree work.
"He has a tremendous family and I tell him its 90% Barbara and the female line," Repole said. "The mare means more than the stallion."
Repole even named a 2-year-old son of More Than Ready after Rosen. Morethanreadyeddie, a $190,000 buy for Repole and Viola, made his debut June 9 for Pletcher at Belmont Park and won by 5 1/4 lengths. Slowed by some minor setbacks, Rosen's namesake is in Florida with Pletcher and is expected to resume his career this winter at Gulfstream Park, probably on turf.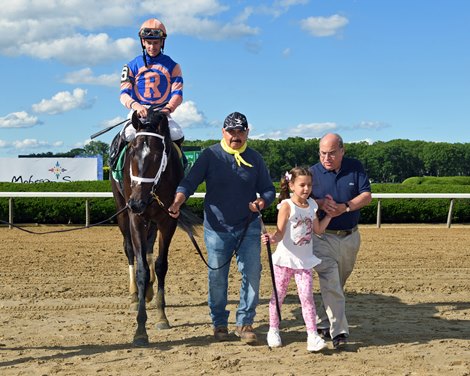 "That was an immense thrill when he won," Rosen said. "I was nervous the whole drive from New Jersey to Belmont Park and I washed out in the paddock. I was more nervous than some of the big races."
While he gets in some rest after an intense season at the auctions, the pertinent question for Rosen is how long he will stay at his new fulltime job. Repole has one thought.
"Eddie is probably one of the most youthful people I've met. It's hard to keep up with me but Eddie's right there. I kid him that I want him to work for me for the next 23 years and when he's 100, then he can retire," Repole said. "He's an unbelievably great asset to Repole Stable and incredibly good and loyal friend. He can miss on the next 15 horses in a row and he still has a job with me."
Rosen, who would welcome being able to work at 99, has a different outlook on the long-term future but not the immediate future.
"Mike is fabulous. Every day he challenges me and I appreciate it," Rosen said. "Sometimes I'm frustrated, but in the end I realize he is keeping me sharp. I have no intention of stopping anytime soon."