Buyers with connections to many equine families on offer at the Sept. 26 Fasig-Tipton California Fall Yearlings and Horses of Racing Age Sale in Pomona, Calif., were willing to step up for prospects. From trainer John Sadler assisting in buying the $250,000 sale topper, a half brother to Sadler-trained Kings River Knight, to Eric and Sharon Waller's emotional acquisition of a half sister to their deceased graded stakes winner Spectator, the kinship felt for the horses brought buyers out in ways not every sale accomplishes.
West Point Thoroughbreds purchased the sale topper, with Sadler and his assistant, Juan Leyva, doing the bidding. John Harris' Harris Farms consigned the colt, a California-bred son of Vronsky—Seasontoperfection, by Poteen. The mare has produced Kings River Knight, a three-time stakes winner this year under Sadler's tutelage, most recently in the Sept. 16 E.B. Johnston Stakes at Los Alamitos Race Course, and the stakes-placed Irrefutable (Big Bad Leroybrown).
"This horse looks a lot like (Kings River Knight), so we thought he'd be good for the Cal-bred program," said Sadler. "The breeders are staying in for a piece."
Old English Rancho and Kenneth Tevelde, two of Kings River Knight's owners, bred the sale topper. Old English bred Seasontoperfection, and Vronsky stood at Old English and then at Harris before the stallion died in 2021 at age 22.
"I was very pleased with how the colt sold," said Jonny Hilvers, general manager of the Harris horse division. Hilvers is also the great-grandson of the late E.B. Johnston, who founded Old English and for whom the Los Alamitos stakes is named. "He is a very nice individual, great physical, good walk, and I think it showed. We're very happy that West Point Thoroughbreds got him and John Sadler will train him."
Three other yearlings brought $200,000 or more. Terry Lovingier's Lovacres Ranch sold Rumble King, a California-bred son of Stay Thirsty —My Fiona, by Ghostzapper , for $225,000 to trainer Steve Knapp as agent for Todd Sheehan. Loveacres also sold a California-bred son of Flatter—Rapid Repair, by Arch, for $200,000 to Steve Gasparrelli's Slugo Racing. Barton Thoroughbreds sold the highest-priced filly, a Kentucky-bred daughter of Improbable —Diva's Tribute, by Henny Hughes, for $200,000 to the Wallers.
The Wallers tried to hold back tears shortly after buying the Improbable filly, whose second dam is stakes winner Swiss Diva.
"Not only did we breed Spectator, but we bred Swiss Diva, which is where it all started," Eric said. "We bred Diva's Tribute, and she was injured in a paddock accident, so she never raced."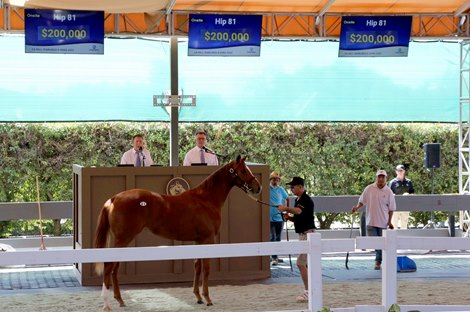 The Wallers sold Diva's Tribute before Spectator won the 2017 Sorrento Stakes (G2) at Del Mar.
"I wanted to get that family back," Eric said. "I couldn't let this filly go."
It will be an emotional week. Spectator, who died, produced only one foal, Stronghold, a 2021 son of Ghostzapper .
"Stronghold is running at Churchill Downs on Sunday," Eric said. "So we're flying out to Churchill."
Bred and owned by the Wallers, Stronghold will be making his second start after finishing second at Ellis Park Aug. 27. Phil D'Amato, who accompanied the Wallers to the sale, trains Stronghold and will likely train the sale filly.
The sale average and median for the yearling portion—the bulk of the sale—rose from 2022. A total of 158 yearlings grossed $5,218,000 for an average of $33,025 and a median of $17,000, compared to the 2022 average of $29,076 and $15,000. This was despite the uncertainty of the Northern California racing circuit, with Golden Gate Fields set to close permanently after racing through mid-2024.
"Overall, the yearling market was very positive," said Fasig-Tipton California representative Mike Machowsky. "Our average and median are each up 13%. It was very solid. We were very pleased with it. We had some new people buying—West Point Thoroughbreds bought a couple."
While acknowledging the Northern California situation, Machowsky pointed to the importance of California-breds to California racing and the healthy incentive program.
"Everybody who owns and trains horses needs balance and diversity in their barns," added Machowsky, who for years was a Southern California-based trainer before moving to his Fasig-Tipton position.
The Havens Blodostock Agency-consigned Work It took top honors in selling for $85,000 to G Chris Coleman during the Horses of Racing Age portion. Consigned as Hip 357, the 2-year-old Outwork filly out of Le Sang Royale is a full sibling to Jim Edgar Illinois Futurity Stakes placed Dust Dancer and half sibling to Juan Gonzalez Memorial Stakes second Vinaka.
The bay filly was bred in Illinois by Anne Gallagher and Barney Gallagher, who traded her last year for $30,000 at the Fasig-Tipton Kentucky Fall Yearling Sale to Tari Brocklebank. In her first start Sept. 15, Work It won by five lengths in a 5 1/2-furlong maiden $30,000 claimer at Los Alamitos. She comes from the family of Jabber, a stakes-placed producer of stakes winners Lady Riss, River Bear, and Devient Behavior.
The entire sale concluded with 185 horses selling from the 281 on offer for gross figures of $5,751,500, at an average price of $31,089 and a median of $15,000. The 96 horses who failed to sell represent an RNA rate of 34.2%.
During last year's sale, 205 horses sold from the 276 through the ring for gross receipts of $6,257,100, suitable for an average price of $30,522 and a $17,000 median. An RNA rate of 25.7% represents the 71 horses that remained unsold.
Fasig-Tipton's next auction will take place on the East Coast. The Midlantic Fall Yearlings Sale is set for Oct. 2-3 at the Timonium Fairgrounds in Maryland.