Nearly four hours of debate and testimony in a Louisville, Ky., courtroom proved insufficient to conclude a Feb. 2 hearing for a preliminary injunction sought by Hall of Fame trainer Bob Baffert in a lawsuit against track operator Churchill Downs Inc. U.S. District Court Judge Rebecca Grady Jennings ordered the hearing to continue Feb. 3 at 10:30 a.m. ET.
Baffert's pursuit of a preliminary injunction could allow the two-time Triple Crown-winning trainer to run horses in the May 6 Kentucky Derby (G1) and other major races at Churchill Downs this spring after CDI banned him from competing at its tracks through mid-2023 after his trainee, Zedan Racing Stables' Medina Spirit, tested positive for the race-day presence of betamethasone after crossing the wire first in the 2021 Derby. Baffert was later fined and suspended 90 days by Kentucky stewards and Medina Spirit was disqualified, a decision that remains under appeal. Baffert went on to complete the suspension.
In determining whether to grant or deny preliminary injunctive relief, Jennings must consider, among other factors, Baffert's likelihood of prevailing on the merits of his case and showing irreparable injury if relief is not granted. Baffert, to date, has largely been unsuccessful contesting regulator and court decisions in Kentucky, and his Santa Anita Park-based stable has most of the top 3-year-olds in California stabled within it, just as was the case before the CDI action.
Baffert's horses are currently prohibited from earning qualifying points toward the May 6 Kentucky Derby, and in rules instituted this year, they can only earn points for other trainers if they move into other stables by the end of this month. Last year, two Baffert trainees, Messier and Taiba , qualified and raced unsuccessfully in the Derby after sent into the stable of trainer Tim Yakteen.
Baffert attorneys Clark Brewster and Joey De Angelis presented their opening arguments first during Thursday's afternoon court session, with Brewster calling CDI's ban of Baffert "made by might instead of right," action he called unprecedented by the track operator. He said CDI suspended the trainer with "an edict in a press release" without offering Baffert a hearing or means to explain how Medina Spirit could have tested positive for betamethasone, an anti-inflammatory medication.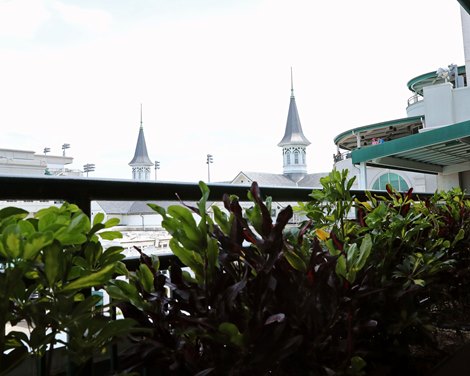 He further argued that the incident came at a time when the push for the Horseracing Integrity and Safety Authority was in the headlines, and Baffert became the "poster boy" for what is wrong with horse racing and equine medication use.
Though Baffert said Medina Spirit was never treated with betamethasone in the immediate aftermath of the test findings and later blamed the positive on "cancel culture," he later said Medina Spirit was treated for a skin condition with an anti-fungal ointment known as Otomax, which contains betamethasone valerate.
Pointing to ambiguous language in Kentucky Horse Racing Commission rules, Baffert's attorneys contend that betamethasone valerate is not specifically prohibited by the KHRC, in contrast to betamethasone acetate, the type of betamethasone used in joint injections, the typical way horses receive the corticosteroid.
KHRC general counsel Jennifer Wolsing, who watched court proceedings as an observer Thursday, previously stated before a hearing officer that the route of administration is irrelevant and stewards treated their sanctions to the trainer on that basis.
Otomax, marketed to treat ear infections in dogs, is not approved by the Federal Drug Administration for use in horses, though horses can be treated off-label with it with veterinarian documentation and client consent.
According to California Horse Racing Board treatment documents, Baffert's California-based veterinarian Dr. Vince Baker prescribed Otomax on April 9, 2021, and on April 19, 2021, as Medina Spirit readied for a start in the Kentucky Derby on the first Saturday in May. Baker is expected to testify Friday.
De Angelis sought to portray CDI as being entwining with state government and the KHRC, a key argument in Baffert's case if they are to prove a violation of the trainer's due process rights. He pointed to many KHRC-licensed employees working at Churchill Downs and one steward involved in Baffert's KHRC-issued suspension being employed by Churchill, with the other two by the KHRC.
"The aroma of the state is so pungent (CDI) cannot be deemed a private activity," he said before CDI attorneys later argued that state oversight occurs in many regulated industries.
After Brewster and De Angelis collectively spoke for two hours, Jennings asked attorneys to pick up their pace, and CDI attorney Tom Dupree countered that Baffert's legal team was effectively making the same arguments they had in prior hearings. He said Baffert's request for a preliminary injunction at this time was "an unreasonable tactical delay," more than a year and a half after the suspension.
Granting an injunction would be a "judicial takedown" of the Kentucky Derby and Kentucky Oaks (G1) and would mean other Derby participants would need to "make room at the 11th hour for Mr. Baffert."
He disputed that contention from Baffert's legal team that Baffert, like an Olympic athlete pursuing a "once in a lifetime" opportunity cited in a previous legal case as precedent, would suffer irrefutable harm by missing this year's Derby. He noted it is his horses, not the trainer, that are the athletes, and Baffert has opportunities in 2024 and beyond to pursue the Derby.
He also noted that the stall application signed by Baffert and given to all trainers stabled there can lead to the revocation of participation at the operator's sole discretion "without any prior notice."
Aside from a phone call from a CDI employee in which Brewster claims Baffert was essentially just read the press release of his ban, he received little communication from the company. In his opening statement to the judge, Brewster called not having a hearing or even a conversation on the matter "wrong in every respect in the country we live in, your honor."
The one witness to testify Thursday, CDI equine medical director Dr. Will Farmer, acknowledged under cross-examination from Brewster that he did not investigate Baffert's claims, including the use of Otomax. The cream was not found in a KHRC search at Baffert's stable at Churchill Downs.
Prior to the suspension, he was consulted by CDI upper management, and "I was asked of what I know," meaning in reference to betamethasone.
Under questioning from CDI attorney Jeff Moad, Farmer testified he considers a betamethasone violation to occur when discovered by "limit of detection"—a term meaning that a laboratory can find its presence without any designated levels—irrespective of whether the drug came into a horse's system via an injection or an ointment.
Jennings grew frustrated at times during Brewster's cross-examination of Farmer and later emphasized to attorneys to focus on the specific legal issues related to preliminary injunction requests. She urged them to move at a quicker tempo during the late Friday morning session.
"I'll starve you out at some point" to finish by lunch, she said.
Baffert, who attended Thursday's proceedings with his wife, Jill, and son Bode, is scheduled to be questioned Friday in court by attorneys for both sides.
-Dick Downey also contributed to this story.