Longtime Victorian owner and breeder David Moodie's Hesket Bloodstock has purchased Spendthrift Australia in a deal encompassing the property, stallions, and a selection of racehorses more than four months after its United States owner made the bombshell Christmas-New Year announcement to cease its southern hemisphere operation.
Trading under the new Hesket Thoroughbreds banner, Moodie and business partner Ash Hardwick agreed to buy the pristine American-owned 244-hectare (approximately 603 acres) property and equine interests following months of negotiations, bringing Spendthrift's almost eight-year involvement in the Australian industry to an end.
There had been dozens of written expressions of interest from individuals and parties about buying the valuable land and bloodstock holdings since the Romsey property was officially listed for sale in early January.
However, after a long and drawn-out process, Hesket Thoroughbreds settled on the property and the equine portfolio May 6.
The domino effect of the Spendthrift Australia sale will see Dirty Work, a winner in the 2020 McCafe Schillaci Stakes (G2) who covered 155 mares in his first season last year, and roster mate Overshare relocate to the nearby Widden Victoria to continue their stud careers.
The pair will stand at Antony Thompson's southern operation, which is in its second year, on behalf of Hesket Thoroughbreds after they put pen to paper on Monday night to take on the two stallions on Moodie's and Hardwick's behalf.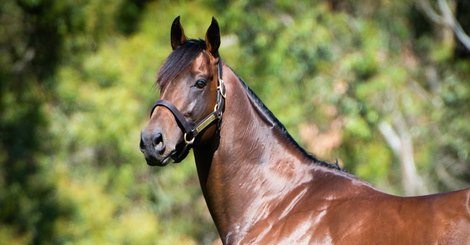 Overshare, whose oldest progeny are 2-year-olds and who covered 130 mares in 2021, is the sire of the Annabel Neasham-trained Lady Laguna, a three-time stakes-placed filly who also won her first two starts in November.
Dirty Work will stand for a fee of AU$16,500 ($11,446), down from his introductory fee of AU$19,800 ($13,734), while Overshare remains at a fee of AU$11,000.
Moodie told ANZ Bloodstock News May 10 that the relocation of the stallions to Widden was a strategic move and that he would be supporting the duo with a percentage of his own high-class broodmare band, one which he has developed over decades and made him one of the country's most successful owner-breeders.
The acquisition of Spendthrift's farm will tie in with the property Moodie already owns in the area called Yungaburra at Newham in the Macedon Ranges to the west of Melbourne, which has also been used as a pre-training and training facility for his large racing team of horses.
"It's a lovely property, to start with, and to be partnering with Widden in so far as the future of the stallions is concerned, I am very pleased about," said Moodie, whose racing honor roll includes 2010 AAMI Golden Slipper (G1) winner Crystal Lily, Mercedes Benz Blue Diamond (G1) winner Paint, Flamberge and a host of other group 1 winners among the more than a thousand winners he's owned.
"We have got a bit of a three-pronged attack (buying Spendthrift). We've got Yungaburra, this new property now, and the association with Widden, so we're working through that and we'll do the right thing by all the current employees."
Thompson was delighted to partner with Hesket Thoroughbreds, a move which brings the Widden Victoria stallion roster to ten for this year.
"David's got a fantastic record over a long period of time, so with his support, Widden's support, and the mares they've already got in foal and in the pipeline, these horses will get every chance to continue that momentum and really make their mark," Thompson told ANZ Bloodstock News.
"David's farm (Yungaburra) is not far from Widden Victoria (formerly Sun Stud), so we have done a little bit of business, but it is an exciting new partnership and friendship.
"We're looking to explore all these options with him and it's pleasing—these discussions have been going on for a while now—to be able to sign it last night and announce it today.
"While there was lots of interest in the farm, and particularly these two stallions, it's really pleasing that they're coming to Widden Victoria."
Specifically speaking about Dirty Work, an AU$800,000 ($555,096) Inglis Australian Easter graduate in 2018, Thompson believes the Hawkes Racing-trained sprinter will be popular again in his second season at stud.
"He had tremendous support in numbers and quality from a wide range of breeders, so he gets every opportunity with that first book of mares and I'm sure we'll get strong support for him going forward," he said.
"David was keen to continue to get strong support for him going forward, so we thought just dropping him back a peg (service fee) that he would slot in very well in our stallion roster and make sure we get another good book of mares to him."
Thompson is also confident about the prospects of Overshare, another group-winning sprinter who was bought as a yearling and raced by Spendthrift before retiring to stud.
"He is a horse that has gained momentum with each crop and obviously he is a good-looking, fast son of I Am Invincible which makes him very commercial," he said.
"We've seen them sell well, they've hit the track running off a small fee, and he's only had a few runners from that small first book, but they've all shown a fair bit."
Moodie is also a believer in the prospects of Overshare.
"Overshare is a lovely horse and he gets good types. His first runner is a very good group-class filly and the three that he's had to the track they all seem to be able to run a bit, particularly Lady Laguna," the long-time owner said.
"It is a small sample, but it's a good sign. They tend to call elections on 5% of the vote, so I am hoping that the small sample translates to a fairly big return."
Fellow Spendthrift stallions Gold Standard, the sire of talented first crop stakes-winning Perth juvenile Sheeza Belter, and Swear will be sold by Magic Millions through a tender process to be managed by bloodstock manager Dane Robinson.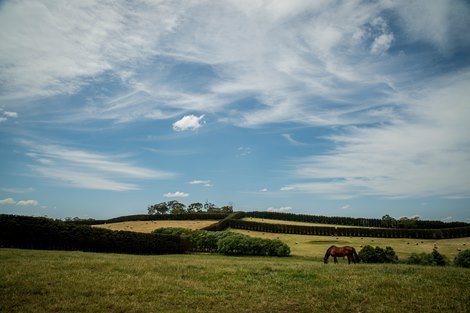 Hesket Acquires Talented 2-Year-Old Colts
Moodie already had a business relationship with Spendthrift, selling a 20% share in 26 of his homebred yearlings and 2-year-olds to race for its MyRacehorse syndication company under the tutelage of Flemington trainer Mathew Ellerton.
Spendthrift's racing team includes promising juveniles—the Lamaros Hotel Chairman's Stakes (G3) winner Sebonack, who ran fourth in the Blue Diamond Stakes (G1), and the unraced AU$1.2 million ($832,644) colt Pyrois, who won two Rosehill barrier trials in January—are part of the multimillion-dollar deal.
Hesket has wholly or partly acquired 16 racehorses as part of the Spendthrift takeover and Moodie, who is also a partner in Ellerton's training business, confirmed that Sebonack and Pyrois would remain in training with Michael, Wayne, and John Hawkes.
Spendthrift Australia also owns the Tony and Calvin McEvoy-trained Mac 'N' Cheese, a two-time listed-winning half sister to Vinery Stud's Coolmore Stud Ascot Vale Stakes (G1) winning sire Exceedance and the group 2 winner Oxley Road.
The third of just four live foals and only filly out of Bonnie Mac, who died in 2020, Mac 'N' Cheese will be offered as the star supplementary entry as a racing and breeding proposition at the upcoming Magic Millions National Sale, her pedigree ensuring she will be one of the most sought after mares in the catalog.
There are also 12 Spendthrift Australia-owned weanlings cataloged for the Magic Millions National Sale later this month while 31 mares, who were already cataloged, will also be offered unreserved at the broodmare sale the following week.
Among them are stakes-winning juvenile Madeenaty who Spendthrift bought at last year's National broodmare sale on the Gold Coast for AU$800,000 ($620,208) from the Shadwell dispersal and the half sister to three-time group 1 winner Duais in Baccarat Baby, who Spendthrift bought for AU$650,000 ($555,096) from the same sale. Inclement, an unraced half sister to top sprinter Santa Ana Lane, will also form part of the dispersal of mares. The trio of mares are in foal to Dirty Work.
A number of Spendthrift's weanlings and mares were also sold through the Magic Millions Online platform last month as part of the unreserved dispersal.
"There's huge interest and there's a huge amount of quality in the Spendthrift dispersal that we're leading into on the back of the sale of the farm to Hesket and David Moodie," Magic Millions managing director Barry Bowditch said.
"It adds a lot of interest having an unreserved dispersal in any catalog, especially one that has acquired the level of bloodstock over the past ten years that Spendthrift has, both internationally and here in Australia."
'I Had Seven Wonderful Years Building Spendthrift Brand'
Spendthrift Australia general manager Garry Cuddy—selected by the stud's founder, the late B. Wayne Hughes, to oversee his southern hemisphere operations upon the purchase of Yallambee Stud in April 2015—is one employee who will not continue in his role at the new entity.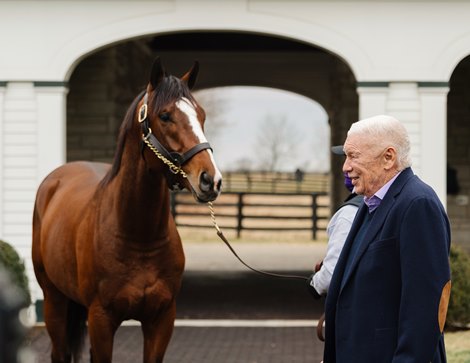 American businessman Hughes died in August last year, aged 87, but not before he enjoyed his biggest success in racing when Authentic won the Kentucky Derby presented by Woodford Reserve (G1) in September 2020.
While Hughes was heavily engaged in the southern hemisphere industry, his death last year prompted a reevaluation of Spendthrift's investment in Australia, leading Hughes' son-in-law Eric Gustavson to call time on the Australian stallion and racing business, leaving the future of the horses and staff in limbo.
"I had seven-and-a-half wonderful years building the Spendthrift brand in Australia, something I'll be forever grateful to Mr. Hughes for giving me the opportunity to do," Cuddy said May 9.
"I wish the Hesket team all the best with the operation in the future, they have purchased a wonderful farm, an exciting young stallion roster, and some very promising racing stock."
Josh Rix, who was Spendthrift Australia's head of nominations, will work for Moodie at Hesket Thoroughbreds while Ziva Mullins, who was employed in nomination sales, was recently appointed as a bloodstock consultant at Inglis.
Moodie is liaising with Spendthrift employees to assist those that may stay with Hesket Thoroughbreds while helping those who wish to explore other opportunities.
40 Expressions of Interest Lodged for Spendthrift
Donovan and Co's Clint Donovan and Magic Millions, who were provided with the job of selling Spendthrift Australia, were initially instructed to attempt to attract a buyer on a walk-in, walk-out basis encompassing the land, plant, and bloodstock portfolio but it became increasingly difficult to find a willing party to undertake a deal on that basis.
Yesterday, Donovan suggested "the mechanics of selling a business of this size and all the assets and liabilities that go with it does take a while to work through" but the level of interest in Spendthrift left him confident a sale would be reached.
"We were fortunate and excited by the fact that we had 40 genuine written expressions of interest for the farm and the assets. That was a huge number and far more than I expected," Donovan said.
"It should be seen as exciting for the entire thoroughbred industry that there were many people thinking they could own a farm and stallion station like that.
"It is also extremely gratifying (to be able to sell the farm) and it's a great result for the Victorian industry that Hesket has managed to secure all the assets."
Since Spendthrift's entry into the Australian industry about seven years ago, it has spent AU$32.115 million ($22,283,635) on yearlings and mares at public auction either outright or in partnership.
Spendthrift stallions Omaha Beach and Vino Rosso , who shuttled from Hughes' American farm to Australia in 2020 and 2021, will not return for a third Australian season at stud.