If the Nov. 30 session of the Tattersalls December Mares Sale was a music festival, it would have been Glastonbury, Leeds and Reading, and Electric Picnic all rolled into one, such was the overabundance of headline acts.
One turf starlet after another took to the Park Paddock stage and was greeted by an enthusiastic and international buying bench, and there was no shortage of bidding pyrotechnics.
The biggest virtuoso performance came from Newsells Park Stud and Gestut Ammerland's homebred Waldlied (Lot 1839), a three-parts sister to 2019 Qatar Prix de l'Arc de Triomphe hero Waldgeist who won the Prix de Malleret (G2) during her time in training with Andre Fabre.
Her breeding career looks poised to get off on a bright note too as she was offered in foal to Kingman, having already delivered a colt by the same sire in 2020 and a filly by Siyouni earlier this year.
An unidentified online bidder helped drive the price to 1 million guineas, while the likes of Greg Goodman and Barry Weisbord also played their part.
But ultimately it was Ammerland representative Crispin de Moubray and Jill Lamb, sitting with Newsells Park's owner Graham Smith-Bernal, whose runs lasted longest, with the latter party prevailing at 2.2 million guineas (US$3,077,390).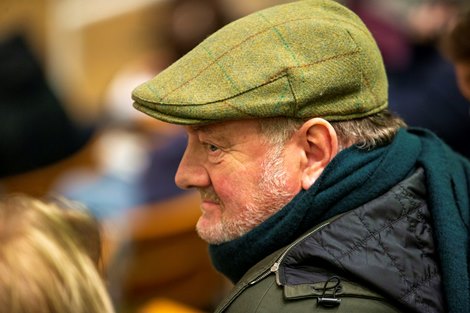 Waldlied was bred in partnership from the blue hen Waldlerche, a group 3-winning Monsun half sister to 2011 Ladbrokes St. Leger (G1) hero Masked Marvel from the famed German 'W family.' Smith-Bernal confirmed the Hertfordshire farm had bought out their partners.
"She's coming back home, where she belongs," he said. "She's a beautiful mare in terms of her demeanor and attitude, she's a very special horse from a very special family. It was breaking one partnership and forming a new partnership. We also own 100% of Waldlerche now, as well as her number one daughter.
"She was a great racehorse, I think she was rated as highly in training as Waldgeist was by Andre Fabre. She's a very special horse and we are absolutely delighted to have her back with us."
By the close of play on Tuesday Newsells Park Stud had sold 12 lots for receipts totaling 5,794,000 guineas ($8,104,730).
Coolmore Hot on Pepper's Prospects
The high-class Cayenne Pepper (Lot 1840) was the very next lot into the ring and kept up the momentum when selling to Coolmore's Tom Magnier at two million guineas ($2,797,630). The 4-year-old daughter of Australia won four races in the silks of the late Jon Kelly, including the 2020 Moyglare Jewels Blandford Stakes (G2), and was also placed in three group 1s while under the care of Jessica Harrington.
"She's a lovely mare and we knew what she could do on the racetrack," said Magnier, who is based at Coolmore's Australian farm. "Obviously Jessica Harrington held her in high regard and Jon Kelly was a very close friend of our family so we're delighted to get a mare that he owned. She's a lovely physical and she'll go to Wootton Bassett. All the top people have been talking about her this week so it's great to have her and hopefully we'll have a bit of luck."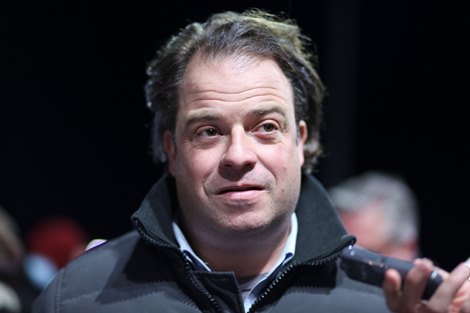 Another offered by Newsells Park Stud, Cayenne Pepper was making her second appearance at public auction, having been sourced by Harriet Jellett at 195,000 guineas ($277,007) at the December Foal Sale in 2017.
"Jamie McCalmont and Philippa Mains helped select her as a foal," recalled an emotional Jellett. "She had such an incredible hind leg action, I can still picture her stepping out of the box as a foal. She had a lovely hip and hind leg and you need an engine when you buy a racehorse.
"Jon had given us some money to pinhook with, but when we came to prepare her as a yearling it was decided that she wasn't strong enough or big enough and we'd be better off racing her. It was the best decision as she's a filly that has always given her most, always does her best. Jon was such a huge part of it, he would have loved tonight, his excitement would have been palpable."
Coolmore knows plenty about the pedigree as Cayenne Pepper's page traces back to Allegretta, dam of the brilliant Urban Sea, whose sons include breed-shaping sire Galileo and his Investec Epsom Derby (G1)-winning brother Sea The Stars, as well as the likes of Black Sam Bellamy, who carried the Tabor silks to success in a brace of group 1s.
Times Family of the Essence
Cayenne Pepper was not the only seven-figure acquisition Coolmore will be sending to Wootton Bassett in 2022, as Sunday Times (Lot 1810), dam of dual grade 1 winner Newspaperofrecord, sparked a duel between M.V. Magnier and David Redvers, sitting with owner David Howden at the back of the packed auditorium. The Coolmore man won out when the price reached 1.8 million guineas ($2,517,860).
Consigned by Goldford Stud on behalf of owner-breeder Allan Belshaw, Sunday Times, a 12-year-old daughter of Holy Roman Emperor, was offered in foal to Newspaperofrecord's sire Lope de Vega.
"She's an absolute cracker," said Magnier. "She's bred a champion before and is hopefully carrying a full sister. What Newspaperofrecord did at the Breeders' Cup was incredible. I'd say she's most likely going to Wootton Bassett. There's plenty going on in the page the whole way down. It's a lot of money but hopefully, she's worth it."
Sunday Times is a second-generation homebred tracing back to Simply Times, which Belshaw bought in Ocala in 1995. She has bred three winners, with Newspaperofrecord joined by listed scorer Classical Times, who was sold to Juddmonte in 2018.
"I'm satisfied, I'm happy about it, but slightly disappointed because I've had her since she was a baby," said Belshaw. "But there comes a time when you have to move on and I have plenty of babies from the family, so it's like starting again. She can help the cause for the younger members of the family."
Sunday Times, a sibling to the dam of Latrobe and Pink Dogwood, made her second appearance much more fruitful than her first after she was bought back at just 10,000 guineas ($16,666) at Book 2 of the Tattersalls October Yearling Sale in 2010.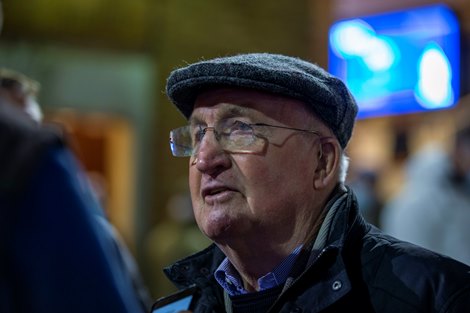 "She was not sold as a yearling at Book 2 when Holy Roman Emperor was just at the beginning of his career," said Belshaw. "She was bought in at 10,000 guineas and I'm not sure she even got a bid, believe it or not! She turned into a nice racehorse and then an even better broodmare.
"The big one was the Breeders' Cup (Juvenile Fillies Turf, G1T). Someone actually bid for her while I was at Churchill Downs but I wasn't brave enough and thought I can't sell her. I've got two of her fillies (by Lope de Vega and Kingman) at home and half a dozen half sisters, so we're in a good place."
A short while later James Wigan of London Thoroughbred Services snared another member of Belshaw's herd when Daily Times (Lot 1829), a daughter of Gleneagles and Sunday Times, was knocked down at 800,000 guineas ($1,119,050). The winning 4-year-old was also offered by Goldford Stud and carrying to Lope de Vega.
"She's going to stay here for the time being," said Wigan, whose purchase was made on behalf of the McCausland family's Erdenheim Farm in Pennsylvania. "She will foal here and will probably go to Kingman before traveling to the U.S., hopefully, in foal."
Flotus Achieves First Lady Status
The sale's first seven-figure lot was Flotus (Lot 1798), the highest-rated 2-year-old filly to be offered anywhere in the world this year having finished runner-up to Tenebrism in the Juddmonte Cheveley Park Stakes (G1) on her most recent start.
Most of the usual suspects were in the vicinity when the daughter of Starspangledbanner was presented by Simon and Ed Crisford's Gainsborough Thoroughbreds, but matters soon boiled down to Roger Varian, taking instructions on the phone on the back stairs, and Shingo Hashimoto, representing Katsumi Yoshida's Northern Farm from his position by the exit.
When Hashimoto signaled a bid of one million guinease ($1,398,810) Varian shook his head and disappeared from sight and the gavel came down in favor of the free-spending Japanese operation.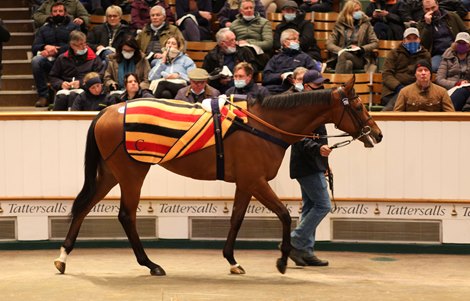 After just six starts, a CV that includes wins in a Goodwood maiden and the listed British Stallion Studs E.B.F. Ripon Champion Two-Year-Old Trophy, Flotus remains with plenty of racing potential, though Hashimoto said no future plans had been made.
"I haven't decided if she will race on, I need to talk with my boss in Japan and see how it goes," said Hashimoto. "It could go either way, but if she's going to race again she will stay here. She has put up some pretty outstanding performances so I'm very excited to buy her."
Flotus was making her third sales ring appearance, having been pinhooked by Glenvale Stud at €65,000 ($72,010) as a foal before Arthur Hoyeau signed at 125,000 guineas ($170,396) at Book 1 last year. Having congratulated the filly's purchaser, Simon Crisford said: "She's top-class and we wish her new connections the very best for the future.
"We're very sorry to see her go but she did a fantastic job and she's a beautiful filly. She was owned by a syndicate and they decided the time was right to sell. I'm sure she'll do very well, not only on the racetrack but as a broodmare in the future."
Blue Bound for Sottsass Date
The smart Shades of Blue (Lot 1765), winner of the listed Prix Hampton and runner-up to Glass Slippers in the Qatar Prix du Petit Couvert (G3), was offered by The Castlebridge Consignment in foal to champion sire-elect Frankel. It was, however, her compatibility with another stallion with Galileo in his pedigree that prompted Michel Zerolo to bid 850,000 guineas ($1,188,990) on behalf of Peter Brant's White Birch Farm.
"She's been bought to go to Sottsass," said Zerolo. "I liked the whole package; she's by a stallion you can cross with Sottsass, she was a good racehorse and a talented 2-year-old, and she's in foal to Frankel. She will go to Coolmore, where Mr. Brant plans to send plenty of good mares to Sottsass."
The Newtown Stud-bred daughter of Kodiac is out of the unraced Verglas mare Enjoyable, meaning the likes of Laraaib, Gutaifan, and the group 1 winners Mustashry and Ventura Storm appear beneath her second dam.
Sottsass, an Arc-winning son of Siyouni and the Galileo mare Starlet's Sister, covered 132 mares in his debut season at Coolmore at a fee of €30,000.
Fairytale Result for Furtado
Another rags-to-riches tale to emerge from the blink-and-you'll-miss-it session of selling was the sale of Just Beautiful (Lot 1739) to Paddy Twomey, signing as BBA Ireland, at 625,000 guineas ($874,259). The 3-year-old daughter of Pride of Dubai has been a real flagbearer for Ivan Furtado, who sourced the filly with Doncaster Racing at just 8,000 guineas ($10,830) in 2019. She won five times from seven starts, including the Japan Racing Association Sceptre Stakes (G3) on her most recent outing.
The filly's pedigree has improved considerably since that bargain acquisition, as her dam, the group 3-placed Makfi mare Astrelle, has now bred three black-type performers from as many runners, with Fearless King winning the Mehl-Mulhens-Rennen Two Thousand Guineas (G2) and the 2-year-old McKulick running third in the Miss Grillo Stakes (G2T) just last month.
"It's a fantastic story, it's a dream come true for us," said Furtado. "She has been a joy to deal with, she took us to the next level, and we're ever so grateful to her. The team at home have done a great job and I wish the best to her new connections. She was a joy and thanks to Jamie Railton for consigning her so well."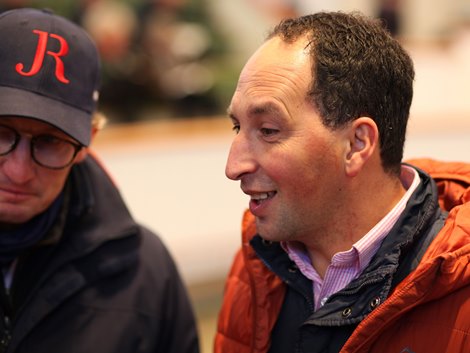 In expanding on the filly's initial appeal, the trainer explained connections had had to resist the temptation to keep Just Beautiful for another season. He said: "She was great looking, not the biggest, but put together well, a nice dark bay and who walked well. She always had a great head and was very professional. She's a very clever filly and she transferred that to her racing, she always tried so hard.
"We talked about going another year, but she has done fantastically for us, she won her first listed race, she won her group 3, but the time was right. We don't want her to go, we love her to bits, but the time is right."
Twomey added: "She's a lovely filly, Ivan has done a great job with her, we hope to do the same. She should have a bright racing career ahead. She's been bought for an existing client."
By the close of some frenetic trade 224 lots had sold for a clearance rate of 85% and turnover of 41,912,000 guineas ($58,627,100), a huge 68% year-on-year increase on the corresponding session from 2020, which was topped by the 2.2 million ($3,077,806) guineas Beach Frolic.
The average price was 187,107 guineas ($261,728), a 39% increase, while the market strength on show was best highlighted by the median, which rose by 75% to 105,000 guineas ($146,875), up from 60,000 guineas in 2020. Some 115 lots sold for a six-figure sum.