Trainer Jorge Navarro, who pled not guilty in April 2020 to charges involving the use of performance-enhancing drugs in racehorses, has a change of plea hearing scheduled Aug. 11 before United States Judge Mary Kay Vyskocil in the Southern District of New York.
The hearing notice, posted in online court documents July 30, could signal a shift to a guilty plea for Navarro. Other defendants among the roughly two dozen individuals charged by prosecutors in the racehorse doping scheme have either pled guilty or intend to change their pleas in the coming weeks.
Along with trainer Jason Servis, Navarro is among the most prominent individuals charged in the case. Defendants are accused of contributing to the sale, use, or distribution of adulterated and misbranded PEDS.
According to the indictment, the two trainers were captured on federal wiretaps discussing the use of SGF-1000.
Compounded and manufactured in unregistered facilities, SGF-1000 was an intravenous drug promoted as a vasodilator capable of promoting stamina, endurance, and lower heart rates in horses through the purported action of "growth factors" supposedly derived from sheep placenta.
Servis pled not guilty last year. His attorney, Rita Glavin, indicated in court documents earlier this week that she intends to file a motion to suppress the wiretaps taken from her client's cellular phone.
The indictments allege that Navarro and others conspired for years to drug racehorses, leading to acclaim and vast earnings for those horses. Customized performance-enhancing drugs were mislabeled to avoid scrutiny, were administered without Food and Drug Administration authorization and prescriptions, and were designed to be undetectable.
Before his indictments and subsequently being barred from training by horse racing regulators, Navarro won seven leading trainer titles at Monmouth Park and topped the 2018-19 Championship Meet at Gulfstream Park.
In one section of Navarro's indictment, titled "Doping X Y Jet," Navarro and others were alleged to have administered PEDS to X Y Jet before the gelding's victories in a Feb. 13, 2019, allowance optional claiming race at Gulfstream, and the March 30, 2019, Dubai Golden Shaheen Sponsored by Gulf News (G1) at Meydan. X Y Jet won both races, the latter a $2.5 million event.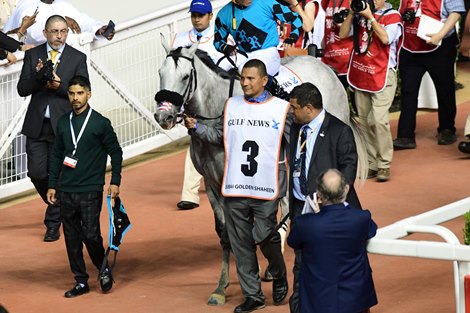 The indictment noted that on or about March 22, 2019, just more than a week out from the Dubai Golden Shaheen, Navarro was in the United Arab Emirates with X Y Jet and personally administered various adulterated and misbranded PEDs to the horse, including a substance Navarro called "monkey."
The indictment said that substance, erythropoietin (Epogen or EPO), is a blood-builder that can increase stamina. The indictment also notes that erythropoietin and its analogues can increase cardiac exertion and pressure and lead to cardiac issues, including death.
Navarro announced in January 2020 that X Y Jet had died at age 8 from a heart attack. The horse's final race came a month before in the seven-furlong Mr. Prospector Stakes (G3) at Gulfstream, where he finished last of six.
X Y Jet was campaigned by Gelfenstein Farm throughout his 26-race career and Rockingham Ranch took partial ownership of the horse in 2016. David Bernsen assumed a 10% interest of X Y Jet in early December 2019 as part of a partial restructuring and dispersal of horses he owned in partnership with Rockingham Ranch.
In other court documents filed Friday, Vyskocil denied multiple motions brought forth by defendants, including a motion to dismiss the indictment.
She wrote, "The law is clear that government agencies involved in drug regulation and enforcement can be the object of a defendant's intent to defraud or mislead" within the meaning of certain sections of the Food, Drug, and Cosmetic Act.
"The Indictment more than sufficiently alleges that the FDA, (Customs and Border Protection), and state drug regulators were victims of Defendants' fraud in this case," she continued. "In addition, because they are delegated authority to oversee drug use in horses, the horse racing officials and regulators also may be alleged as targets of a defendant's intent to defraud or mislead for the purpose the FDCA felony provision."