Breeze Easy's Mike Hall and Sam Ross made a considerable leap of faith when they bought a modestly bred son of Chitu for $190,000 at this year's Ocala Breeders' Sales' March Sale of 2-Year-Olds in Training.
Hope in Him rewarded their confidence in his stakes potential with a sensational debut victory that instantly established him as a leading prospect for the 2021 FTBOA Florida Sire Stakes series.
The Joe Orseno-trainee is scheduled to meet eight other juveniles in the $100,000 July 31 Dr. Fager Stakes, a six-furlong sprint that will co-headline Saturday's program with the $100,000 Desert Vixen, a six-furlong dash for 2-year-old fillies.
"The owner, Mike Hall, and the fellow who picks out our horses, Tom McGreevy, did all the work (in Ocala). When I got there, they said, 'Meet us at the barn. We want you to take a look at this colt. We like him and want to know what you think,'" Orseno said. "I went over there, and I just fell in love with him."
Hope in Him made an auspicious debut in a 4 1/2-furlong maiden special weight race at Gulfstream Park June 4, breaking sharply from the gate to set the pace before drawing away to a five-length triumph.
"He lived up to our expectations. He really did. I thought he was a nice horse when we bought him," Orseno said. "We took him down here and he trained forwardly with everything he did. He's a natural out of the gate."
Samy Camacho has been named to ride Hope in Him, replacing the recuperating Edwin Gonzalez.
Hope in Him's victory became even more impressive when runner-up Lightening Larry came back to score a solid maiden special weight win June 18. Lea Farms' Lightening Larry is slated to take on Hope in Him again in the Dr. Fager.
The son of Uncaptured chased Hope in Him in his debut, finishing 2 1/4 lengths clear of the third-place finisher. Two weeks later, the Jeff Engler-trained Florida-bred graduated by two lengths, surging clear after pressing the early pace in the five-furlong sprint.
"We knew we had a nice horse. I was pleased with his first start. Obviously, the other first-time starter left there running and never stopped," Engler said. "I thought Larry ran on well and got a lot of education from that race. It showed in his second race, because he ran much better and finished better."
Romero Maragh has the return mount aboard Lightening Larry.
Gulfstream Park, Saturday, July 31, 2021, Race 12
STK
6f
Dirt
$100,000
2 yo Colts and Geldings
6:08 PM (local)
Silver Smile Looks to Continue Florida Sire Stakes Success for Stonehedge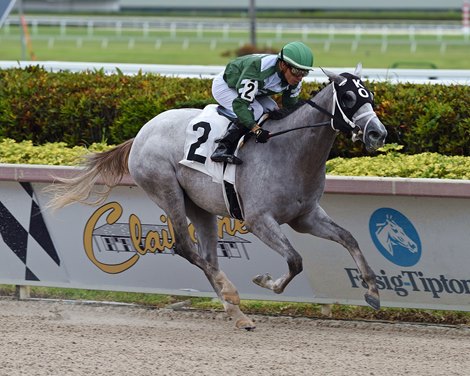 Gil and Marilyn Campbell's Stonehedge and trainer Kathleen O'Connell will seek to continue longstanding success in the FTBOA Florida Sire Stakes series Saturday when they send out homebred Silver Smile for a start in the $100,000 Desert Vixen Stakes.
O'Connell has saddled 11 of the Campbells' 15 Florida Sire Stakes race winners.
"I'm very proud of the association I've had with them. It's been over 25 years. We've had a good run. They're wonderful people. They understand the ups and downs of the game. They've brought a lot into the program for Florida-breds," said O'Connell.
Silver Smile is scheduled to make her second start Saturday after registering a dominating 4 1/4-length debut victory in front-running fashion June 3 at Gulfstream.
"She's trained very well," O'Connell said. "I think we're all at a handicap because we can't get more educational races between breaking their maiden and the stakes. It's not like it used to be, but we're all in the same spot."
The daughter of freshman sire Long Island Sound will take on 10 fillies in a lightly raced field and will be ridden by Emisael Jaramillo, who was aboard for her successful debut.
Breeze Easy and trainer Joe Orseno will send out Stone Beauty for a start in the Desert Vixen. The daughter of Neolithic took the field wire to wire in her July 16 Gulfstream career debut.
"She ran really well for me the first time," Orseno said. "I think she'll move forward off that race, because I didn't have her really cranked up where I wanted her to be. But I knew if we were going to make the sire stakes, we needed to run her."
Stone Beauty was purchased by Breeze Easy's Mike Hall and Sam Ross for $130,000 at the OBS April 2-Year-Olds in Training Sale, a month after they made the winning bid of $190,000 for Dr. Fager contender Hope in Him at the OBS March sale.
"We didn't quite plan on going as high as we did, but we thought that she was a Florida Sire Stakes prospect," Orseno said. "The owners have been wanting horses for the Florida program. They're standing a stallion in Florida (Curlin's Honor ). They race all over, but they're supporting Florida."
Samy Camacho has the return mount aboard Stone Beauty.
The Florida Sire Stakes series will will continue Aug. 28 with the $200,000 Affirmed and the $200,000 Susan's Girl for fillies, both slated for seven furlongs, and Sept. 25 with the $400,000 In Reality and the $400,000 My Dear Girl for fillies, both to be run around two turns at 1 1/16 miles.
Gulfstream Park, Saturday, July 31, 2021, Race 10
STK
6f
Dirt
$100,000
2 yo Fillies
4:58 PM (local)