Sometimes it's the atmosphere that can affect your perception of what is in front of your nose. Such was the case on the opening night of Fasig-Tipton's Saratoga yearling sale this year as our team was taking in the action from the second row of the mezzanine of the Humphrey S. Finney Pavilion.
Surrounded by dozens of extraordinary paintings by masters of the art of depicting steeds in elegant motion or repose, those on site were treated to the entrance into the ring of a dark bay or brown colt who stopped, looked up, and without so much of a whinny seemed to get the message across: "Canvas come to life, eh, buddy?"
This was Hip No. 33, a son of First Samurai who had been measured and assessed at Taylor Made Farm in Central Kentucky as part of the company's biomechanical sweep through the catalog, half of which was conducted in the Bluegrass and the rest in Saratoga.
On this colt, the team came to similar conclusions:
First Samurai is a pretty good sire, though the horse in the ring didn't resemble his sire who is more the chestnut buff of his sire Giant's Causeway.
Indeed, many of First Samurai's offspring that have been analyzed over the years haven't fit his mold—but that doesn't seem to be a problem since the stallion is on the list as the leading active son by Giant's Causeway at stud in North America (Shamardal in Ireland is Giant's Causeway's leading son overall).
Almost simultaneously with this discovery came the news that First Samurai's first son to go to stud, Justin Phillip (who looks like that Saratoga colt), had come up with an impressive stakes winner, What a Catch, in his first crop, plus two others who had placed in black-type events.
First Samurai came out in July at 2, won the Hopeful Stakes (G1) and Champagne Stakes (G1) at seven and eight furlongs, respectively, was second in the Bessemer Trust Breeders' Cup Juvenile (G1) at 1 1/16 miles, won the nine-furlong Fountain of Youth Stakes (G2) at 3, and then was retired due to injury after finishing fifth in the Toyota Blue Grass Stakes (G1).
It is obvious he had a good deal of talent, and his power factors were undoubtedly contributed by his dam, Freddie Frisson (by Dixieland Band), a speedball par excellence whose next two dams were by milers Fappiano and Reviewer.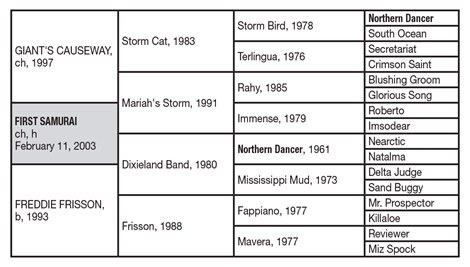 First Samurai appears to be passing both power and two-turn ability to his offspring, exemplified in the power-speed sense by Justin Phillip and Canadian sprint champion Stacked Deck. On the other end of the spectrum, he got the late-developing Lea, whose two-turn preferences included the Donn Handicap (G1), and those in the middle like Miss Sky Warrior, who came to hand in September and then extended herself to win the nine-furlong Demoiselle Stakes (G3) at 2.
First Samurai, as is the case for most of the other sons of Giant's Causeway, is a bit different from his sire phenotypically in that he is imbued with a good deal more power in his make-up. Giant's Causeway is very well balanced in terms of power and stride—he had the power to succeed in group 1 races at seven and eight furlongs, plus the effective stride rhythm to carry that speed over 10 furlongs and more. His other sons at stud seem to pick up on that but also tip toward the power end of the spectrum.
It is interesting to note he might be on the cusp of a late-career sire-of-sires roll: Creative Cause is doing quite well with his first and second crops; Frost Giant is doing well in New York; and he has some very interesting sons in Fed Biz , Brody's Cause , Not This Time , Carpe Diem , and Protonico on deck.
Let's see how they stack up to the one who was in his first crop and has worked his way to first-in-line at this particular point.