The first day of the Ocala Breeders' Sales Company Winter Mixed and Horses of Racing Age Sale ticked along Jan. 24 to favorable results. With a healthy climb in the average price per horse of $27,101 and a median of $19,000, the consignor-preferred session rose year-on-year by 30.4% and 90%, respectively.
The yearling colt by leading sire Tapit , consigned by Stuart Morris as Hip 42, commanded early top honors after selling for $225,000 to agent Dave Cannizzo. The March-born colt, out of the unraced mare Heat Street, is a half sibling to Miss Boom Boom, who was second in the Wine Country Stakes and March Madness Starter Handicap, both on the grass in California.
Bred in Kentucky by Aaron Sones, the bay colt was seen through the Keeneland November Breeding Stock Sale last year as a weanling with Eaton Sales, selling for $70,000 to T & T.
Cannizzo was the leading buyer of the consignor-preferred session with his single purchase.
Beside Hip 42, one other yearling would sell for six figures. Machmer Hall paid $100,000 for a Florida-bred colt (Hip 29) by Gunnevera out of Emotional Roar that was consigned by Silver Oaks Farm.
Two broodmares sold for $60,000 to share the day's honors as the highest-priced offerings in foal. Awesome Debate (Hip 41), a stakes-winning Honorable Dillon mare, sold in foal to Improbable to H & E Ranch by K P Sales. The 7-year-old won the Union Avenue Handicap at Saratoga Race Course in 2021 and is carrying her first foal on a March 27 cover; Improbable will see his first foals drop in 2023.
Craig Wheeler consigned the young winning Liam's Map mare High Speed Stef (Hip 138), who sold to the Fire At Will Syndicate. The Breeders' Cup Juvenile Turf (G1T) winner Fire At Will is due to take up stud duty in New York at Sequel Stallions after being purchased during the Fasig-Tipton Digital Sale earlier this month. The mare is carrying her first foal, by Girvin on a May 23 cover.
During Tuesday's opening consignor-preferred session, OBS reported 96 horses sold of the 114 through the ring, recording a gross of $2,601,700, producing an average price of $27,101 and a median of $19,000. Eighteen individuals failed to meet their reserve, representing an RNA rate of 15.8%.
Last year during the consignor-preferred session, OBS recorded 150 horses changed hands of the 171 offered for gross receipts of $3,117,800, an average of $20,785 and a median of $10,000. Twenty-one horses failed to attain their reserve price for an RNA rate of 12.3%.
Beth Bayer sold 13 of her consignor-preferred offerings for a gross of $358,000 to be the leading consignor by gross.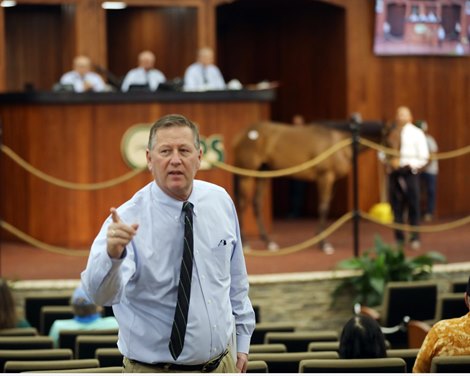 A 5-year-old Point of Entry gelding, Riptide Rock, grabbed the attention of buyers toward the close of business Tuesday, selling for a final bid of $72,000 to Randy Miles. Richard Kent of Kaizen Sales consigned the Adena Springs Ontario-bred, who was second best in the 2021 Ontario Derby (G3).
The dual-surface runner sold with a record of 3-4-1 in 16 starts and earnings of $430,598. Campaigned by Stronach Stables and most recently under Sid Attard's tutelage, Riptide Rock hit the board four times in three months in 2021, including the Queen's Plate Stakes, Toronto Cup Stakes, Breeders' Stakes, and Ontario Derby.
He is the first foal out of the Stephen Got Even mare Irish Influence, and her only foal to start thus far.
During the Horses of Racing Age session Tuesday, OBS reported 89 horses sold of the 110 through the ring for gross receipts of $1,466,800, an average price of $16,481 and a median of $10,000. Twenty-one individuals failed to meet their reserve to represent an RNA rate of 19.1%.
At this point last year, OBS sold 81 of the 90 horses through the ring for a gross of $1,499,700, at an average price of $18,515 and a median of $11,000. Nine individuals failed to sell, representing an RNA rate of 10%.
OBS continues to update its statistics with post-sale purchase prices, which can cause later changes to overall numbers.
Kaizen Sales led Day 1 after selling 15 horses of racing age on offer for gross figures of $327,200 to be the leading consignor by gross.
Trainer Rob Atras, acting as agent, made two purchases for $78,000 to be the leading buyer by gross during the second session.
The sale continues tomorrow with the open session of Hips 401-653 beginning at noon ET. As of Tuesday evening, there were 38 horses withdrawn from the final session.