Neil Howard, trainer of 2003 Horse of the Year Mineshaft , will close his stable and take on a new role as an assistant to Hall of Fame trainer Shug McGaughey.
"(I have) been thinking about doing something like this if an opportunity presented itself. I wanted to keep intact what I felt I accomplished. When Shug contacted me and asked me if I wanted to have a conversation about it I did, and it was a short conversation," said Howard, who is based at Churchill Downs in Louisville, Ky.
"We're sure excited about it. I think he is too. I know my clients are," McGaughey said. "We want to have a bit of a presence in Kentucky from the first of April to the end of November and I think that Neil fits that bill pretty well. He's been around Louisville for a long time. He ought to know how to get in and out of there and it will be a big rock off my back to have somebody as capable as Neil in our organization. He's been a friend for a long, long time, even before both of us started training. I think we both know each other pretty well and I'm looking forward to the opportunity to work with Neil."
Howard's new role was first reported by the Daily Racing Form.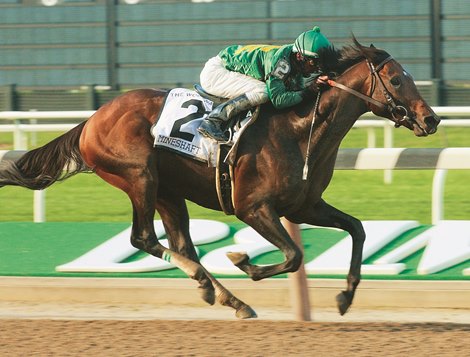 In addition to Mineshaft, Howard, 72, has trained the 1990 Preakness Stakes (G1) winner Summer Squall and the 2000 Kentucky Oaks (G1) winner Secret Status, among other grade 1 winners. Both Mineshaft and Secret Status were homebreds for Lane's End, which Howard was once the private trainer for. Having first opened his stable in 1979, Howard has won 1,256 races to date with his runners collectively earning $53,848,791.
McGaughey, 70, is primarily based in New York and winters in Florida at Gulfstream Park and Payson Park. Having started his training career one year earlier than Howard, he has trained the likes of Hall of Famers Easy Goer, Lure, Personal Ensign, and Inside Information, as well as 2013 Kentucky Derby Presented by Yum! Brands (G1) winner Orb. A month ago McGaughey won the Philip H. Iselin Stakes (G3) at Monmouth Park with Code of Honor, who captured the Runhappy Travers Stakes (G1) in 2019. Code of Honor is a homebred for W.S. Farish of Lane's End.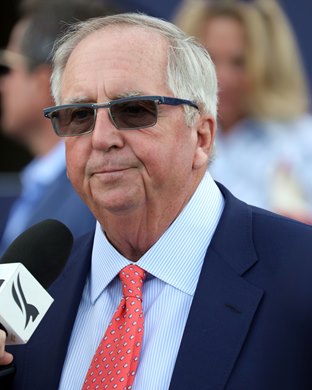 "I feel like we came up kind of the same way, similar clients. We cut our teeth under similar trainers. Shug and I have always been friends and have always had a huge mutual respect for each other," Howard said.
A combination of factors led to good timing for Howard to prepare to step into his new role. Howard was already thinking of future opportunities, McGaughey's assistant Lindsay Schultz is planning to go out on her own, and McGaughey was looking to send some of his expanding stable to the Kentucky circuit.
"It seemed like an opportunity also that wouldn't be coming along every day," Howard added, "so again, I thought about it—not long—and that's how it came about."
"In the last year and a half or so, he mentioned to me one or two times if anything ever came up ... Something came up and I got in touch with him and we met at Keeneland Sunday a week ago," McGaughey said. "I just asked him to think about it, talk to Sue, his wife, about it. Later on that afternoon he said don't look any further.
"We're all excited. I think my people are excited, I know I'm excited, my wife (Alison) was excited. When I first brought his name up I thought she was going to jump out the car window. That's what she thinks of Neil and Sue and somebody that capable to help me along too."
As Howard moves into his new position, plans call for him to remain based at Churchill Downs, where McGaughey currently has 12 stalls, while the track is open to horsemen. Howard said he is ready to move where he is needed for the winter.
"Neil being a Louisville guy, he's not going to have to move around except for in the winter time, and being in Louisville in the winter time isn't the most fun so I think it'll give us more opportunities to fulfill our obligations to the horses," McGaughey said. "My stable's sort of widened out in the last year or two with my main clients along with my mainstays and the Phipps and the Janneys. This is going to give us more opportunities to be competitive on more than one front."
Howard is currently working on assisting his clients in finding trainers for their horses before he officially takes up the job with McGaughey's stable.
"I gave a few recommendations to some of my clients and they were all very, very receptive to what recommendations I had," Howard said. "Some of my clients that I have came by me when Buff Bradley retired from training last year. He so graciously recommended me to some of his clients. Buff is still with them in more of a managerial position, so it's been great for me. Buff and I are good friends so it's been a joint effort. Buff's been working with me to orchestrate a few of these people going to other trainers and everybody's been more than happy to go with our recommendations. We're still working on that."
Howard, who said he does not want to quit working, has entries this week at Indiana Grand and Churchill Downs as he winds down his stable and looks ahead at the next phase of his career.
"I'm looking forward to it," he said. "Shug couldn't have been more gracious in reaching out to me and I really appreciate it more than I could ever tell him."