American classic winner and champion Bernardini 's path toward fully realizing his enormous potential as a stallion tragically ended July 30 when Darley America's 18-year-old son of A.P. Indy was euthanized due to complications from laminitis, the farm announced.
A homebred for Sheikh Mohammed in the early days of Darley's ownership of Jonabell Farm, Bernardini won six races in a row during a dazzling 2006 sophomore campaign during which he won the Preakness Stakes (G1) and was named champion 3-year-old male in North America. He would also be rated as the world champion 3-year-old.
Trained by Tom Albertrani, the son of A.P. Indy—Cara Rafaela, by Quiet American, earned his maiden win in his second start at Gulfstream Park in March of his 3-year-old season by almost eight lengths before capturing the Withers Stakes (G3) at Aqueduct Racetrack in April. He then won the Preakness, giving Sheikh Mohammed his first victory in an American Triple Crown race.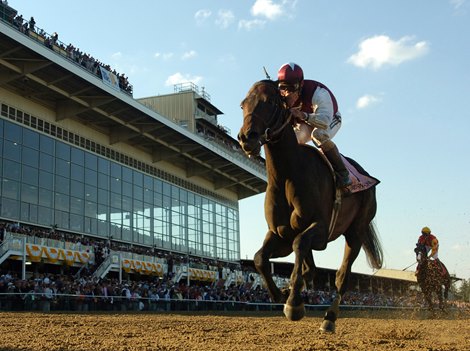 Later that summer he easily won the Jim Dandy Stakes (G2) and Travers Stakes (G1) by nine and 7 1/2 lengths, respectively, at Saratoga Race Course, before a dominant victory in the Jockey Club Gold Cup (G1) against older horses at Belmont Park. He finished his career with a runner-up finish to Invasor in the Breeders' Cup Classic Powered by Dodge (G1) at Churchill Downs.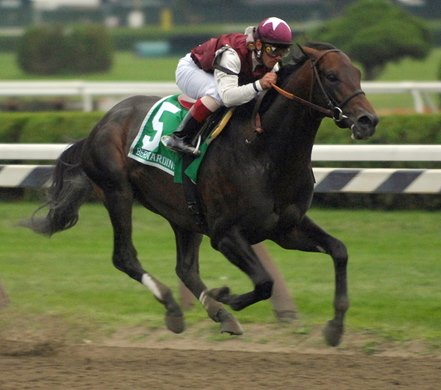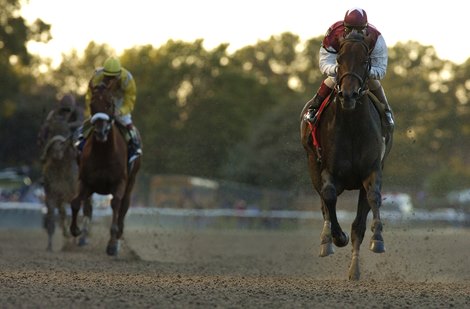 Javier Castellano rode Bernardini in all of his stakes wins.
Bernardini retired to stud at Jonabell Farm for the 2007 breeding season as one of the most highly anticipated stallion prospects in recent memory. He would rank third by progeny earnings in the freshman sire class of 2010 but lead the class by number of black-type winners with four and all of them graded/group winners—A Z Warrior, Biondetti, To Honor and Serve, and Theysken's Theory. In addition to juvenile grade 1 winners A Z Warrior (Frizette Stakes) and Biondetti (Italian Gran Criterium), his first crop would yield two more grade 1 winners in Travers Stakes (G1) and Cigar Mile (G1) winner Stay Thirsty , and To Honor and Serve, who would go on to win the Woodward Stakes (G1) and Cigar Mile.
Stay Thirsty's performances helped propel Bernardini to the top of his sire class during his second-crop year, and then Godolphin's homebred Travers and Woodward winner Alpha would help make him the leading third-crop sire of his generation by progeny earnings. Bernardini also led his third-crop sire class by number of black-type winners with 14.
In his ensuing Northern Hemisphere crops, his top performers included Bobby Flay's Humana Distaff Stakes (G1) winner Dame Dorothy, Shadwell's homebred Vosburgh Stakes (G1) winner Takaful, and Stonestreet's grade 1 winners Cavorting and Rachel's Valentina, the latter a homebred daughter of Medaglia d'Oro 's great daughter Rachel Alexandra.
Bernardini also shuttled to Australia for eight seasons from 2008-15, siring winners Boban, Ruud Awakening, and Go Indy Go. In total, he has sired 80 black-type winners, 48 graded/group stakes winners, and 15 grade/group 1 winners worldwide, according to statistics provided by the farm.
In recent years, Bernardini has been making a name for himself as a record-breaking broodmare sire. In May 2021 he became the youngest stallion ever to reach 50 black-type winners as a broodmare sire, the farm said. Bernardini currently ranks among the top 10 leading North American broodmare sires with more than $8.8 million in progeny earnings and an Average Earnings Index of 1.58.
Video: Comparing Bernardini, Medaglia d'Oro as Broodmare Sires
Bernardini currently has 54 black-type winners, 32 graded/group stakes winners, and 11 grade/group 1 winners as a broodmare sire, including Maxfield, Catholic Boy , Serengeti Empress, Dunbar Road, Colonel Liam, and Paris Lights.
Bernardini was cared for during his 15-year tenure at Jonabell by his longtime groom Philip Hampton.
"Bernardini was one of a kind," said Godolphin USA director of farm operations Michael Banahan. "From the day he was born, he exuded class. He was that crop's best foal, best yearling, and best racehorse. His brilliance was only surpassed by his wonderful character. He will be sorely missed by all on the farm but especially by his handler for the past 15 years, Philip Hampton. It was an honor to be a custodian of this classic-winning stallion whose legacy will live long as a broodmare sire."
Albertrani said, "Bernardini was such a majestic animal. He was very talented, one of the best horses I've ever been around. I just feel very fortunate to have had the opportunity to train him. He was a star."
Jimmy Bell, president of Godolphin USA, said, "Bernardini was Sheikh Mohammed's first winner of a Triple Crown race—and a homebred one, too—and then a leading sire. We have been blessed to have him. A beautiful horse and a lovely character; we are lucky to have so many of his daughters on the farm to continue his legacy."