It takes a certain mindset to walk away with the horse who commands the highest price at a major sale.
You can't be afraid to fail. You need confidence and a strong enough belief in your team and methodology so that you can ignore some rather long odds and continue signaling to the auctioneer when the price tag rises into the stratosphere of seven figures.
As Terry Finley puts it, borrowing an analogy from baseball, you have to be willing to take the bat off your shoulder and swing for the fences.
"We want to take swings. Some bigger than others," said Finley, the president and CEO of the West Point Thoroughbreds partnership. "We're a team that doesn't like to strike out with the bat on our shoulder. We don't want to stand there looking at pitches. We're trying to hit grand slams. In baseball a lot of big hitters strike out a lot and we know that can happen with buying a yearling. But we have confidence in ourselves and we want people around us who are confident and positive and are not afraid to make mistakes."
Finley and his partners, both within and outside of West Point, have certainly taken their share of big swings in recent years, attacking sales with gusto and coming away with five noteworthy sale toppers.
To date, he has yet to hit a home run, but that could change rather dramatically in the coming weeks thanks to First Captain, who just might be the one to deliver an Aaron Judge-like grand slam for Finley and West Point, which owns 50% of the 3-year-old colt, as well as their outside partners, Anthony Manganaro of Siena Farm, Woodford Racing, and celebrity chef Bobby Flay, who bred the son of Curlin .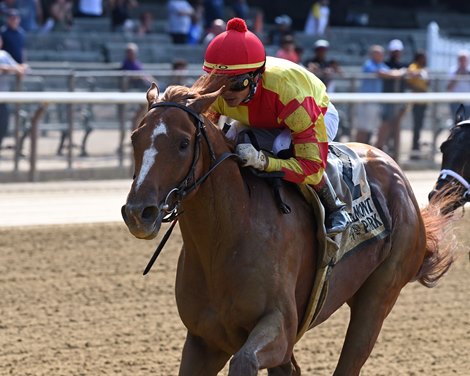 Bought for a co-sale-high price of $1.5 million in 2019 from the Stone Farm consignment at The Saratoga Sale, Fasig-Tipton's New York Sale of Selected Yearlings, First Captain is a perfect 3-for-3 in his young career and is coming off a July 5 victory for Hall of Fame trainer Shug McGaughey in the flat mile Dwyer Stakes (G3) at Belmont Park after allowance and maiden wins.
He will try two turns for the first time July 30 as the 7-5 favorite in the restricted $120,000 Curlin Stakes at Saratoga Race Course in what looms as a highly beneficial 1 1/8-mile prep for the Aug. 28 Runhappy Travers Stakes (G1) when a strong collection of the best 3-year-olds will assemble.
"This looks like a very nice spot," said Woodford founder and Lane's End Farm general manager Bill Farish about the Curlin, a 3-year-old stakes limited to non-winners of a graded stakes beyond a mile in 2021. "It's not quite running against Essential Quality (the Belmont Stakes Presented by NYRA Bets, G1, winner who runs July 31 in the $600,000 Jim Dandy Stakes, G2, at the Spa)."
So, in about a month, time will tell if First Captain is that rare equine grand slam or another example of how a huge sale price is no guarantee of classic success, a fact underscored by the Kentucky Derby Presented by Woodford Reserve (G1), Preakness Stakes (G1), Belmont Stakes, and Travers having just a combined three winners bought for $1 million or more at an auction in the last 29 years and 115 editions of those stakes (Rags to Riches, Fusaichi Pegasus, and A.P. Indy).
Either way, Finley and his partners have no regrets about digging deep into their wallets for First Captain, a son of Flay's impeccably bred A.P. Indy mare America.
"When you ask people to join forces with you, you have to have confidence and believe in what you are selling and we had tremendous confidence in him. I cannot think of a horse we believed in more before and after we bought him than this horse," Finley said. "It's hard to believe how insanely good his mind is. Few horses have a mind and a mindset like his and that's very beneficial. That's what has us so excited. He's in the right hands with Shug and when you are in the right hands and you're in the right spot, you feel good. Now it comes down to finding out if he is good enough and that's a wonderful spot to be at this time of year."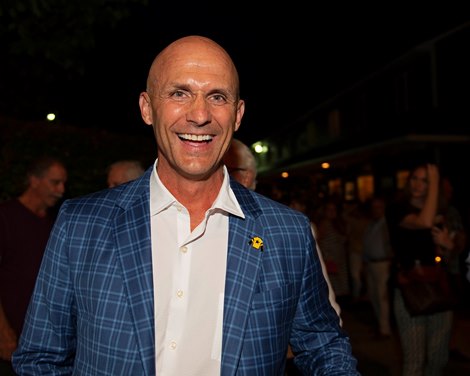 Through McGaughey's relationship with the Farish family and Woodford, he was selected to train First Captain. In some ways it's a new experience for the 70-year-old trainer. Having a sale topper is a relative unique experience for McGaughey, though if some of the homebred horses he's trained for the Farish and Phipps families and Stuart Janney were offered at a sale they would have no doubt brought a king's ransom. On the other hand, his association with a large public partnership such as West Point is something new. First Captain is among the first group of horses West Point sent to McGaughey, a total that now includes five 3-year-olds and 2-year-olds.
"You can't give a sale price any thought. You see horses that they paid hundreds of thousands of dollars for and they are running in claimers," McGaughey said. "The people involved with First Captain understand that and they are excited about him, and I think going forward things are going to work out for him."
McGaughey says he has enjoyed working with Finley and was thrilled to join him on a visit last month to the United States Military Academy at West Point, where Finley graduated before serving eight years as an army artillery officer.
"Terry Finley is a guy I've known but I had never eaten dinner with him, yet there could not be a better person to work with than him," McGaughey said. "I've enjoyed working with him with his horses and being with him socially. Working with his group has introduced me to some new people and it's been fun and easy to work with."
In looking back on how it all started, Finley said First Captain jumped to the top of his shopping list the first time he and bloodstock agent David Ingordo viewed the chestnut colt at The Saratoga Sale.
"The attraction was swift. There's a reason why a horse like this stands out and are the ones people ask about. He was that kind of yearling," Finley said about a colt nicknamed "Curlin Jr." due to a strong resemblance to his sire. "I've known Bobby Flay for 10 years or so and I know how hard his people work on the pedigrees. It was a dynamic pedigree. That was impactful in our discussion. I don't think any horse at the sale was shown as much as him and he never got tired. He kept his poise all week long and then he goes in the ring when it's packed and he walks around like a 4-year-old at the Breeders' Cup Classic (G1). Those things make a mark on you. When they carry themselves as effortlessly as he did, you have to rally the troops and your big guns. He was one we were super confident in and we thought we had the goods."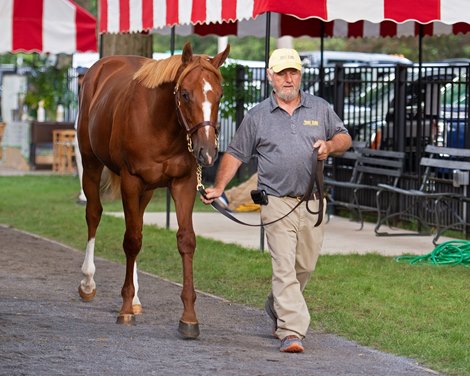 The first one to enlist with the West Point boss in the quest for First Captain was Manganaro, a partner in some of the other sale toppers bought by West Point and a co-owner along with Finley's group of 2017 Kentucky Derby winner Always Dreaming .
"I fell in love with the colt the first day I saw him at the sale and it's always a great ride to be with Terry Finley," Manganaro said about the colt whose dam comes from the family of Better Than Honour, the producer of back-to-back Belmont Stakes winners Jazil and Rags to Riches.
With Ingordo also working for the Farish family, once the hammer went down at $1.5 million on the second night of the sale, Farish jumped in with Woodford Racing.
"There were a lot of expectations and interest in him," Farish said. "Being a Curlin out of an A.P. Indy mare, he was an obvious horse. We talked a little bit with Terry before that night, but nothing was set in stone. We all got excited during the sale and we were lucky enough to get him, and so far so good."
Finley's chance meeting with Flay later that night at the sale rounded out the ownership group.
Under the West Point banner, Finley assembled a small group of owners with his clients, including Michael Valdes, Danny Singleton, Bill Sandbrook, and Bill Freeman, quickly buying in. Overall shares ranged from 20% to 2.5%.
"The reception from our partners has been stunning. People want to get on that path to realize a huge dream. I don't think any of these big-dollar horses lasted long on the market. There's an allure with them. You are offering a partner a share of a potential masterpiece. The mountain is steep and that's the beauty of our game," Finley said. "You hope to be on the cusp of greatness, which is where I hope we are with First Captain. If he works out, he can make up for a lot of others who didn't work out for a lot of reasons."
Finley said West Point's first foray into the deepest financial end of a sale came in 2018 when he purchased the California-bred Galilean at the Barretts Equine Limited Spring Sale of 2-Year-Olds in Training for a sale-topping $600,000 from the Eddie Woods consignment.
A son of Uncle Mo out of the El Prado mare Fresia bred by Bar C Racing Stables, the grade 2-placed, stakes-winning Galilean has won six of 14 starts for trainers John Sadler and Jerry Hollendorfer with earnings that have just about matched his purchase price, $586,098.
"Galilean will eventually stand in New York," Finley said about the champion California-bred older male of 2020 who is also owned by Denise Barker and Sandbrook. "He's not a grand slam but a fun horse and a beautiful son of Uncle Mo."
Next came Sedgwick, who topped the charts in 2018 at The Saratoga Sale. Bred by WinStar Farm, the son of Medaglia d'Oro out of the Wildcat Heir mare Coco's Wildcat was bought for $1,350,000 from the Taylor Made Sales Agency consignment by West Point, Rob Masiello, Siena Farm, and Chris Larsen. Though his dam hailed from the family of the champion filly Songbird, Sedgwick was injured and never raced. He is now enjoying his second life as a riding horse.
Then there was New York-bred Chestertown, bought for a record $2 million at the 2019 Ocala Breeders' Sales' March 2-Year-Olds in Training Sale from the Sequel Bloodstock consignment. He was bred by Chester and Mary Broman by Tapit out of Artemis Agrotera (Roman Ruler) and races for West Point, the Bromans, Woodford Racing, Siena Farm, and Masiello. To date, his earnings stand at $273,295 with four wins from 14 starts for trainer Steve Asmussen, including a victory in the Albany Stakes at Saratoga for state-breds. He's a candidate for the Aug. 27 Albany or an allowance race.
The latest member of an exclusive club is Vinco, a son of Quality Road out of the Storm Cat mare Stormy Welcome. Bred by Alpha Delta Stables and consigned by Eddie Woods, the hammer came down on him this past May at a sale-topping $1,500,000 at the Fasig-Tipton Midlantic 2-Year-Olds in Training Sale.
Owned in partnership with Lori Gervais, he's scheduled to begin his racing career in the fall with trainer Dallas Stewart.
Manganaro also joined West Point in Flightline, who was bought for $1 million from the Lane's End consignment in 2019, the highest price on day one of The Saratoga Sale. He's raced once for West Point, Hronis Racing, Siena Farm, and breeder Summer Wind Equine and was a runaway winner at Santa Anita Park.
A son of Tapit out of the multiple grade 1-placed, stakes-winning mare Feathered (Indian Charlie), he is stabled with Sadler in California and won that lone start April 24, which just so happened to be the same day as First Captain captured his debut at Belmont Park.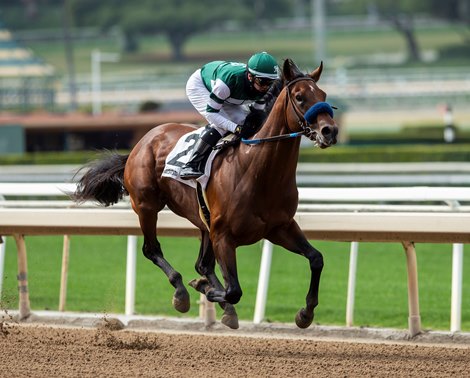 While he's hopeful that Flightline has a bright future off a 13 1/4-length debut win, Manganaro believes if First Captain can become a grade 1 winner, it would make him at least 1-for-4 teaming with Finley on major purchases. Considering how much upside and downside there can be at that price level, he says he would be delighted with a 25% success rate.
"Failures are the test in a relationship. How you handle the ups and downs in this business is key because there's more bad news than good. But if you can hit at a 25% rate, which is 1-of-4, that means you are doing pretty well in this business," Manganaro said. "Let's face it, it's a risk but there's a thrill to it when it works out right. You have to have confidence in the team you are with and obviously with Terry and the other partners we have a great team."
While any yearling can eventually spark optimism and enthusiasm, when a group pays $1 million or more that excitement is ignited the instant the sale ticket is signed. Yet what also makes playing the sales game at the highest end such an adventure is the inherent pressure that always shadows such a prized prospect through good and bad days.
"There's a long history of sale toppers that didn't pan out along with some that do. It's always nerve-wracking at the time but when you find something that everybody likes with the pedigree, the conformation, and everything else, you do not think about it being a sale topper as you're bidding," Farish said. "Afterwards, you say 'Oh, my God,' though after what happened at (the Keeneland September Yearling Sale) it didn't feel crazy after some of the prices there. Yet when you have a first-time starter and you see that lovely little line in the past performances showing what you paid for him, it definitely adds some pressure."
After last year's hiatus in Saratoga due to the pandemic, The Saratoga Sale will resume Aug. 9-10 and Finley and his allies are already talking and preparing for another round of all that excitement, stress, risk, upside, and downside.
"We're working at it," he said. "We'll be active. We've had a strong response from partners old and new."
And if the numbers on the sales board stretches into seven figures, it might be wise to check out where Finley is sitting.
"If the situation merits," he said, "we'll be in there on the sale topper."
No surprise there at all.