Taylor Made Stallions' second-crop sire Not This Time may not lead his sire class's 2021 standings by progeny earnings but he's dominating his peers by number of black-type winners and stakes performers.
The 7-year-old son of Giant's Causeway leads his class with six stakes winners and 11 black-type performers as of July 21. In four out of the last five weeks, he's had a stakes winner each week. He has picked up two new stakes winners since July 11 when his son Easy Time won the Marine Stakes (G3) at Woodbine followed by Just One Time, who won the Malvern Rose Stakes July 19 at Presque Isle Downs in her second lifetime start.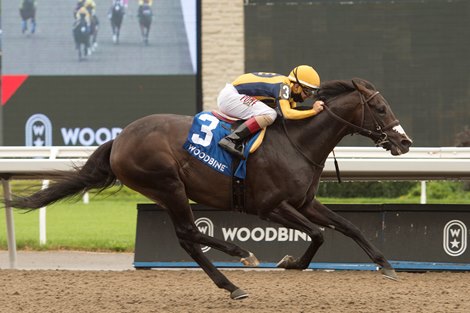 Not This Time was accomplished as a 2-year-old as well, having broken his maiden in his second start and winning the Iroquois Stakes (G3) in his third start. With trainer Dale Romans, Not This Time was the 5-2 favorite in the Sentient Jet Breeders' Cup Juvenile (G1) where he was a neck behind future champion Classic Empire at the wire. He came out of the race with the fastest Ragozin of 4 3/4 and also, unfortunately, a soft tissue injury that forced his early retirement. Not This Time was raced by owner/breeder Albaugh Family Stables, which retained a half interest in the stallion.
As a freshman sire, Not This Time ranked third by progeny earnings but was tied with the late Laoban as the leading sire by number of stakes winners with three.
For cumulative statistics for his first two crops, Not This Time leads his class by number of winners (52), number of stakes winners (9), number of black-type performers (14), and number of graded stakes winners (3). He is second to Darley Stallions' Nyquist by progeny earnings with $3,686,417 to Nyquist's $4,052,690.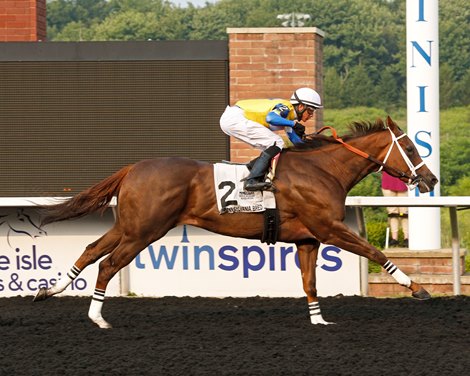 The stallion's top runners also are showing versatility with three of his stakes winners excelling on turf. Dual stakes winner Yes This Time has wins this year in the Kent Stakes (G3T) at Delaware Park and the English Channel Stakes on the turf at Gulfstream Park.
Not This Time is the sire, too, of Next, who won the War Chant Stakes at the grass at Churchill Downs, and Dirty Dangle, who won the Woodbine Cares Stakes on the turf at Woodbine.
Looking at the pedigrees of Not This Time's stakes winners so far, it appears that doubling up on Northern Dancer or his sire sons produces desirable results.
Of the stallion's nine black-type winners as of July 21, four are inbred to Northern Dancer and another two are inbred to Northern Dancer's grandson Storm Cat, who is the sire of Giant's Causeway.
Princess Noor, who won last year's Del Mar Debutante Stakes (G1), is not inbred to Northern Dancer but his influence is in the filly's tail male sire line and her broodmare sire line. Princess Noor is out of the grade 3-winning Wilko daughter Sheza Smoke Show. Wilko is a son of Awesome Again, whose great-grandsire is Northern Dancer.
Other inbreeding that show up in multiple stakes winners include Blushing Groom (5x5 in Princess Noor and 4x5 in Next), Roberto (5x5 in Princess Noor and 4x5 in Dirty Dangle), and Secretariat (4x5x5 in Secret Love and 5x5 in Just One Time).
Only one stakes winner does not have any inbreeding—Easy Time. The colt out of the Cape Town mare Running Creek, which means he is the product of the ubiquitous North American cross of Northern Dancer with the Mr. Prospector sire line. Cape Town is a grandson of Mr. Prospector through Seeking the Gold.