Frankel is wasting no time filling the shoes recently vacated by his super-sire, Galileo, with bookings to the Juddmonte stallion on Southern Hemisphere time filling fast, according to Shane Horan, nominations manager at Banstead Manor Stud, just outside Newmarket.
"He's been extremely popular and we've a good number of very high quality mares returning to him from Australia—he's essentially full now," said Horan.
Frankel's prowess as a racehorse has never been in question—although no doubt the 'Frankel vs. Winx' debate will continue to rage—and this season any Southern Hemisphere supporters of the stallion have been well rewarded as they've watched three of his offspring grace the group 1 winner's circle.
The flagbearer has undoubtedly been the admirably consistent Hungry Heart, with her victories in the Star Australian Oaks (G1) and Vinery Stud Stakes (G1), while nobody could begrudge seasoned performer Mirage Dancer his victory in the Heineken Metropolitan (G1), but perhaps Converge's victory in the Treasury Brisbane J.J. Atkins Stakes (G1) was the one that raised the most eyebrows.
"To get a 2-year-old group 1 winner in Australia is very, very important—and if that stallion doesn't stand in Australia, it garners a lot of attention, particularly if the stallion is already as well known as Frankel," said Horan.
Northern Hemisphere stallions do not have a tendency towards precocity in the way their Australian counterparts do; yet here was a son of Frankel winning an Australian 2-year-old group 1 race—in a canter. It's perhaps no surprise that people were, indeed, surprised.
Frankel's early top-level performers in Australia have been generally performing well over distances of 2,000 meters (about 1 1/4 miles) plus; the likes of Finche, a regular of recent Lexus Melbourne Cups (G1); Eminent, placed in the Ranvet Stakes (G1); and Frankely Awesome, placed in the Vinery Stud Stakes and Australian Oaks.
However, the stats paint an interesting picture for offspring of Frankel that have been tried at sprint distances. Just 23 of Frankel's 472 worldwide runners have contested distances of 1,000 meters (about five furlongs) or less. The number of individual winners from those starters? Eleven, or 48%, if you prefer percentages.
If you step that up to 1,001 meters to 1,200 meters (about six furlongs), the stats are still impressive: 78 runners for 27 winners at a strike-rate of 35%.
So, does it surprise Horan that a stallion with a reputation for bestowing stamina could be prolific at producing winners at these distances?
"You know the more you see from Frankel, you genuinely can't be surprised, he's just that good. The average winning distance of his progeny is two furlongs less than his own sire, Galileo. Let's not forget that Frankel's mother was a sprinter—and she was by Danehill," he said.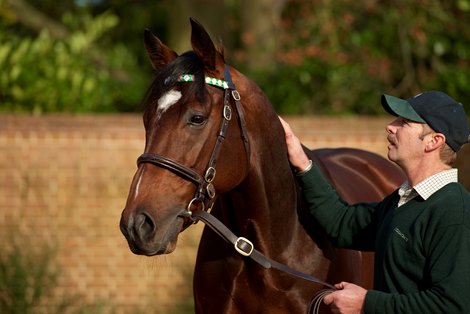 It is perhaps this that sees Frankel boast a record in the Southern Hemisphere that is considerably favorable compared to his own sire's relatively unremarkable statistics in the region, with Galileo, who shuttled for five seasons to Australia, unable to translate his Northern Hemisphere dominance to the south.
Those breeders and yearling/weanling purchasers that have been supporting Frankel have no doubt already worked out that despite the significant stallion fee and risk in sending mares to be covered to Southern Hemisphere time, there could well be value in supporting the heir-apparent to Galileo.
Those early performers for Frankel in Australia, excelling over middle distance to staying trips, undoubtedly affected the price of those yearlings and weanlings offered for sale this year, with the demand for speed and precocity seeing his average yearling price, which ranged from AU$950,000 to AU$600,000 between 2016 and 2018, fall to AU$243,000 in 2021. It's fair to say that those that managed to buy in at that price may well have found the bottom of the market.
Interestingly though, the yearling prices didn't reflect the overall performances of his progeny in Australia during that time. Yes, this past season can probably be viewed as Frankel's breakthrough year in the Southern Hemisphere with three group 1 winners. However, his statistics since 2017 are remarkable, with 37 runners yielding 25 individual winners and seven of those are stakes winners. That's 68% winners to runners and 19% stakes winners to runners.
So, what type of mares are they welcoming at Banstead Manor?
"He has a wonderful record with Mr. Prospector line mares, and obviously Dubawi is of that line also, which gave us this year's Derby (G1) winner (Adayar)," said Horan. "As we know, inbreeding to Danehill is quite unsuccessful. Between the Northern and Southern Hemisphere it's been tried over 7,500 times—and it returns something like 1.1% stakes winners.
"His results with inbreeding to Danehill are better than that—around 7%, but you give him mares without Danehill and he is significantly better, around 15%."
The Juddmonte operation in the United Kingdom is far from a one-trick pony, and arguably—on Australian sales results anyway—Frankel isn't even their best performer. Kingman boasts an average yearling price—for the 2021 Australian sales season—of AU$942,000.
"In January after the sales, Kingman was all the rage; obviously his sales results have been phenomenal, and that's what the market wanted—but then Hungry Heart won her first group 1, then a second, and people started paying attention to Frankel and it snowballed," said Horan.
"Then, more recently, we had John Camilleri's filly Argentia, by all accounts she's a very exciting filly—and as the results came flowing in, so did the applications—so we've capped him at around 40 bookings and as things stand, we're home and hosed.
"You know, in hindsight, I'd have to say that Frankel is probably grossly underpriced. We actually expected Kingman to be the busier horse—but you can't blame people for trying to get in to Frankel while they can, when he's proven what he can do, as he may not be this price again."
With Galileo's direct offspring now a finite resource, global breeders are already investing heavily in his most obvious successor.
"We would never, ever, be so bold as to claim that he's Galileo's successor—obviously he was one of a kind, and so was his own father, Sadler's Wells—but so, too, is Frankel," said Horan. "It's an exceptional sire line and all being well, it looks like Frankel is going to carry it on.
"He's probably the most versatile of Galileo's sons, and has had top-level results in a variety of different countries at a variety of different trips—but he gets great support from the best breeders and the best mares, so you'd have to think he's only really getting going.
"He's only three away from 50 group winners in the Northern Hemisphere. Dubawi broke Galileo's record for time taken to 50 group winners. We've got until Royal Ascot next year to find three more. You'd have to be hopeful he could do it."
It would take a brave man to bet against it.