The Jan. 12 second session of Book 1 at the Keeneland January Horses of All Ages Sale was certainly one for the books. Bolstered by the addition of several farm dispersals, the atmosphere on the grounds was one of frenzied activity as horses changed hands for strong prices throughout the day.
A total of 247 horses from 318 offered changed hands Tuesday for gross receipts of $23,319,400. The median was $40,000 and the average was $94,411. The 71 horses that did not sell represented an RNA rate of 22.3%.
During the 2020 session, 225 horses were sold for receipts of $17,007,300 at an average of $75,588 and median of $40,000. The 78 that did not sell represented an RNA rate of 25.7%.
The belle of Tuesday's ball was most certainly Sam-Son Farm, which sold 21 mares through their dispersal for receipts of $6.733 million. That number would make the historic Ontario farm the leading consignor on the day. But while its success in the ring was certainly a testament to the sheer quality of the farm's breeding stock, the auction was still an emotional moment for the staff as they slowly learn to say goodbye to more than nearly half of century of top-level breeding and racing.
"The business of the game and just trying to get everything ready, we've worked so hard to do this we haven't really given ourselves time to absorb it all," said Sam-Son Farm manager David Whitford. "There's a lot of pressure to do things right, especially for the family. They've been in the game for 50 years and we don't want to mess that up. There's a great legacy there, and we felt the pressure of doing that. I wasn't there when the mares loaded up on the farm to come down here. My staff back at the farm … it might be hitting me right now. It'll be bittersweet for sure."
From buyers, to consignors, to general onlookers, the praise for Sam-Son Farm and its legacy continued throughout Tuesday's session.
"They've spent a life's work building these families and I'm sure it's mixed emotions for a lot of the guys working there," said Elliott Walden of WinStar Farm after signing the ticket on Hip 588, a $310,000 Tiznow mare named Dancing Fancy out of Canadian champion Dancethruthedawn (by Mr. Prospector). "Dave Whitford, I talked to him yesterday, it's like seeing his kids go. He takes some solace in the fact that they're going to good homes and he can still cheer them on and the whole team can. They've done a great job over a number of years and they have a lot of nice mares."
"Great respect to them (Sam-Son Farm)," said John Sikura of Hill 'n' Dale at Xalapa, who purchased two Sam-Son mares from the same family (Hips 598 and 637), for receipts of $1.43 million. "Bidding as an opportunist to get in those pedigrees, but also a tribute to (Sam-Son founder) Ernie Samuel and all the people that put Canadian racing on the map. I'm a Canadian and proud that I grew up in the era of (E. P. Taylor's farm) Windfield. Sam-Son Farm is as good and successful as anybody in the world doing what they did. For me it's really sort of a claim of heritage and a chance to get involved in things that I think could really be important in the future, and breed to horses that we stand and have access to, and hope to revive those pedigrees, and be significant either on the track or in the sales ring."
The highest price for any Sam-Son mare on Tuesday came in the form of Hip 587, Danceforthecause, a 10-year-old daughter of Giant's Causeway and already a proven producer. Offered in foal to Lane's End's Twirling Candy , the bay is a daughter of Dancethruthestorm and a full sister to stakes winner Grand Style.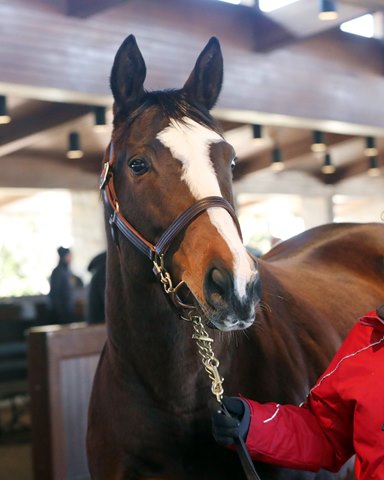 Danceforthecause's second dam is Sam-Son Farm's illustrious mare Dance Smartly, a winner of the 1991 Canadian Triple Crown who was named champion 2-year-old, 3-year-old, and Horse of the Year in Canada as well as champion 3-year-old in the United States. The late Dance Smartly was also a half sister to grade 1 winner Smart Strike, who twice earned the leading sire title in the U.S. during his 18-year tenure as a Lane's End stallion.
Say the Word (More Than Ready ), Danceforthecause's first foal, won the 2020 renewal of the Northern Dancer Turf Stakes Presented by Pattison (G1T) at Woodbine and has been stakes placed on the turf on four other occasions. Her second foal, Rideforthecause (Candy Ride ), won the 2020 Canadian Stakes Presented by the Japan Racing Association (G2T) at Woodbine.
"I thought she was a really beautiful mare," said bloodstock agent Alex Solis, who signed the ticket for Danceforthecause on behalf of Gainesway Farm. "She has great balance and obviously she's been a great producer already. I think this is the best Sam-Son family there is and with Dance Smartly as the second dam and Smart Strike is right there on the page. I thought she was a very exciting prospect.
"I love the purchase. The price I thought was fair. The mare is 10 years old so I thought it was very fair. The right horse always brings a lot of money."
Slightly further down the purchase line, bloodstock agent Nobu Araki was finally able to walk away a winner when he purchased Sam-Son mare Mythical Mission for $575,000 on behalf of Shimokobe Farm/Polo Green Stable. Consigned as Hip 754, the daughter of Giant's Causeway is out of the Miswaki mare Misty Mission, a half sister to Canadian champion Comet Shine. Mythical Mission is also a full sister to two-time Canadian champion Irish Mission and a half sister to stakes winner French Beret.
Mythical Mission was offered in foal to Triple Crown winner American Pharoah .
"We bid on ($925,000) Regal Glory (Hip 403)," said Araki. "We liked her but couldn't get her. This was the second mare for us today. Of course American Pharoah is good in Japan. We bought the mare because of her family and her physical. I wish Mr. Shimokobe could come into town but of course, a lot of Japanese buyers couldn't come.
"The mare will stay here in the U.S. Shipping is not until next month but she'll have the baby by then. Then she'll be bred to something else and ship back to Japan. But she will foal here."
Sharing the top price for the day was Hip 403, Regal Glory, who was consigned by Lane's End, agent for the complete dispersal of the estate of Paul Pompa Jr. Out of the More Than Ready mare Mary's Follies, three-time graded stakes winner Regal Glory was purchased by Peter Brant's White Birch Farm and will return to training with Chad Brown.
The Pompa dispersal saw 20 horses sell for receipts of $4.037 million.
"The power of the dispersals was obvious today with nine of the 10 top prices going to the dispersals," said Keeneland's director of sales operations Geoffrey Russell. "It was bittersweet but we appreciate the trust they put in us to put this on today.
"The opportunity—especially with the Sam-Son dispersal—to get into these mares has been limited over the years. The same is true with the mares of Mr. Pompa. They come from strong female families and as (Keeneland president and CEO) Shannon (Arvin) said, breeders are looking for 'blue skies' ahead and they have to have the product to produce yearlings to sell."
"I'm glad there's these good offerings because we're doing the dispersal for Spry Family Farm," sad Sikura. "We sold some foals very well yesterday. Part of the reason is the traffic here because of the dispersals. We expect a good strong market. I believe Book 2 will be just as significant as long as you have the right horse."
As for the short yearlings, the top seller was Hip 660, a filly from the first crop of Lane's End stallion City of Light who was purchased by Larry Best's OXO Equine for $400,000. Bred in Kentucky by Baumann Stables, Aaron Sones, and Eric Crawford, the filly is out of the Bernardini mare I'll Show Me, a half sister to champion and 2008 Kentucky Oaks (G1) winner Proud Spell.
"I thought the market was very strong. I thought that the foals sold exceptionally well today," continued Russell. "Mr. Pompa had some foals in his dispersal, but I thought the non-dispersal foals also sold very, very well. It was strong from start to finish."
With Book 2 beginning Wednesday, consignors are prepared for the fact that there could be a slight drop in market strength. That being said, most were quick to point out that there will always be strength at the top end, no matter what the catalog looks like or what shape the economy is in.
"It sounds repetitive because everyone gives the same answer. Young, well-covered fillies that look the part, that have an active family, everybody wants them, they're premiumized," said Sikura. "Mares with four or five foals, one winner, and a late cover, they bring less than they should. I think there's great buying opportunities because if a mare has an excuse, she's punished severely. All it takes is one of those existing foals to be a runner and she goes right back into a significant category again. Everybody wants the obvious when they breed to your stallions. They want the hot horse, they want the mare in foal early, or the foals by City of Light or one of the hot horses, and maybe everybody chases them hard. That's our market."